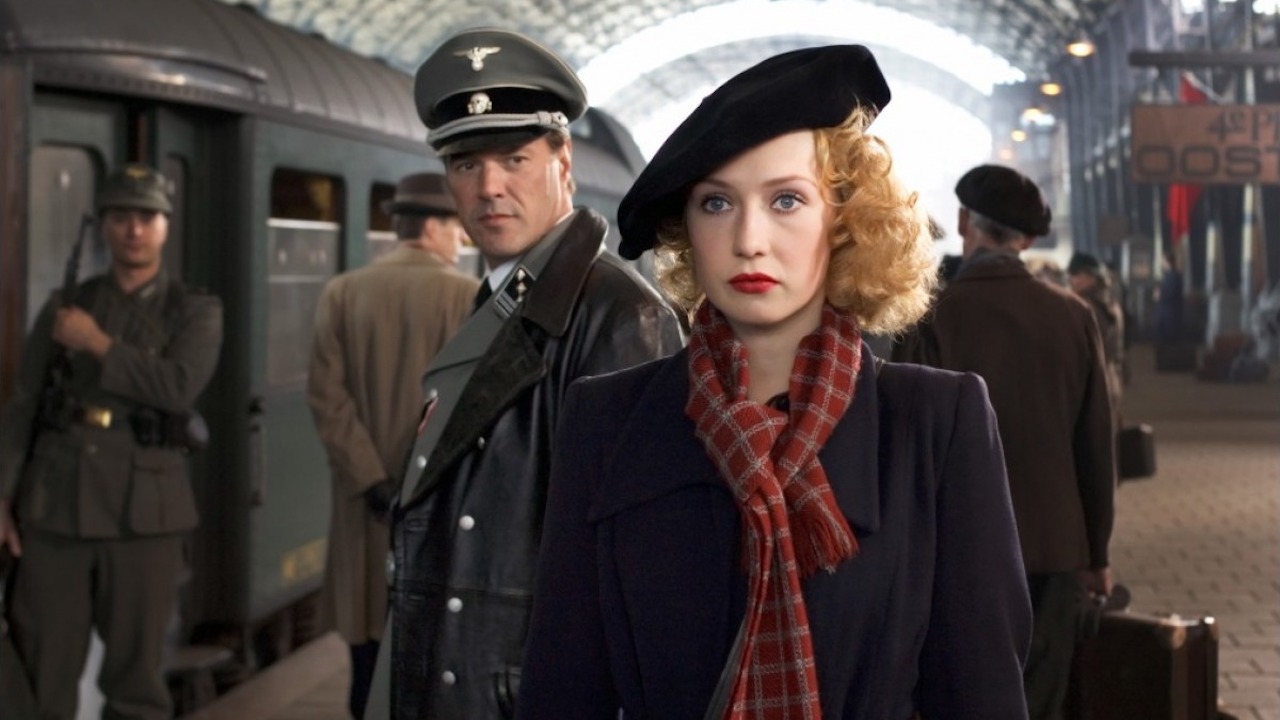 Black Book
Friday, September 27 - Sunday, September 29, 2019
35mm Print!
Staff Pick! Chosen by Carlos who says: "Never seen it. Can't wait."
"Pop quiz: Who's the real star of Basic Instinct? Sharon Stone? A certain part of Sharon Stone? Sharon Stone's agent? Answer: Dutch dynamo Paul Verhoeven. Throughout his career, the director has split his viewers into two warring camps. On one side are those who see his Hollywood spectacles—which include RoboCop, Starship Troopers and Showgirls—as stealth satires: hugely budgeted art films loaded with savage irony and tits. On the other side are, presumably, blind people.
"BLACK BOOK is Verhoeven's first new movie in six years, the studios apparently having grown tired of him. It's a good thing they have. He's taken a generally holy subject—Jewish resistance to the Nazis—and returned to Holland to make what is undeniably, perversely, lovably a Verhoeven movie. It stars the comely Carice van Houten, who would never be cast as Anne Frank in any decent production. She plays Rachel, initially shepherded from attic to farmhouse in the standard cinematic tradition. Soon enough, though, she's dyeing her hair Aryan blond (yes, all of it) and shtupping for her supper, not unhappily. Nazis love her.
"A filmmaker hamstrung by conventional morality would make Rachel suffer, and quick. While Verhoeven does eventually plunge his heroine into a world of shit—literally—he's having too much fun sending her into harm's way, always with a resourceful out. Let's not ruin it and say he's ended up with a survival film as "important" as Schindler's List. BLACK BOOK is wittier, more romantic, more fun and perhaps even more useful." – TimeOut New York (2007)
Screening as part of our Summer 2019 series, "Weekend Classics: Staff Picks."
Country Netherlands/Germany/UK/Belgium
Language In Dutch, German, English, and Hebrew with English subtitles.
Year 2006
Running Time 145 minutes
Distributor Sony
Director Paul Verhoeven
Writer Gerard Soeteman, Paul Verhoeven
Editor James Herbert, Job ter Burg
Cinematographer Karl Walter Lindenlaub
Cast Carice van Houten, Sebastian Koch, Thom Hoffman, Halina Reijn, Waldemar Kobus
Accessibility Assistive Listening, T-Coil