Accessibility
All IFC Center auditoriums are ADA accessible and have designated wheelchair seating. Companion seating may be reserved in advance.
When selecting seating via a reserved seating map:
– Wheelchair seating is indicated with a wheelchair icon (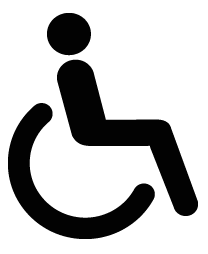 );
– Companion seating in indicated with a bold, red C
Assistive listening devices are available for use in all auditoriums for all screenings; audio descriptive (AD) listening tracks and closed captioning (CC) will be indicated where available.
Look for the indications below on our film pages to see if the desired technology is available for a particular film or screening:

Assistive Listening. Assistive listening devices transmit and boost the volume of the film through headphones. This technology is available in all theaters and for all films.

T-Coil.  Assistive listening devices that work with hearing aids to boost the volume of films through a receiver worn around the neck. This technology is available in all theaters and for all films.

Descriptive Audio. Descriptive audio narration describes the visual setting and action as it happens on the screen along with dialogue. Look for this indication to see if a desired film has descriptive audio. Not all films have descriptive audio available.
Closed Captioning. Texted captions – like the closed captions displayed on a TV – on a single device that mounts in your cup holder. Look for this indication to see if the desired film has captions. Not all films have captions available. 
All devices can be checked out at the IFC Center box office (inquiries can additionally be made in the IFC Center lobby) where our staff will be more than happy to help you! Devices are loaned out at no charge. Please note that descriptive audio and closed captioning tracks are not available for all titles. If you have any questions, feel free to email info@ifccenter.com.
Public Transportation: IFC Center is located off of the West 4th Street subway stop (A/C/E/B/D/F/M trains). This station is wheelchair accessible.
Accessible Restrooms: IFC Center has two single-patron bathrooms located on the 2nd floor; the 2nd floor can be accessed by elevator.