About Us
Discover the IFC Center
The IFC Center, the ultimate entertainment space for New Yorkers seeking out the best in independent film, opened in June 2005, following an extensive renovation of the historic Waverly theater. The complex features: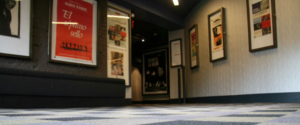 Five state-of-the-art cinemas with luxurious seating, Dolby Digital 5.1 surround sound, 3D capability, and 4K and 2K digital and 35mm projection
Theatrical premieres of new independent, foreign and documentary features
DOC NYC – America's largest documentary festival, every November
Pure Nonfiction – weekly documentary series presented in the spring, fall and winter (previously known as Stranger Than Fiction)
Queer/Art/Film – a monthly program featuring LGBTQ guest curators
Weekend Classics – Fridays-Sundays at 11AM
Waverly Midnights – cult movies Fridays and Saturdays at midnight
Special presentations of the acclaimed theatrical productions of National Theatre Live and others
Short Attention Span Cinema – short films screening before most features
Posteritati Gallery at IFC Center – exhibitions of vintage movie posters from around the globe
Organic popcorn with real, natural butter and an extensive selection of gourmet snacks available for purchase
Our famous Cinemetal T-shirts, new Girls on Tops women-in-film tees, plus DVDs, blu-rays, books and other apparel on sale at the lobby concessions stand
Contact us
For showtimes, please call 212-924-7771.
To contact our administrative offices, please call 212-924-6789 (Mon-Fri 10am-6pm) or email info@ifccenter.com.
For membership inquiries, please call 212-524-1569 (Mon-Fri 10am-6pm) or email ifccmember@ifccenter.com.