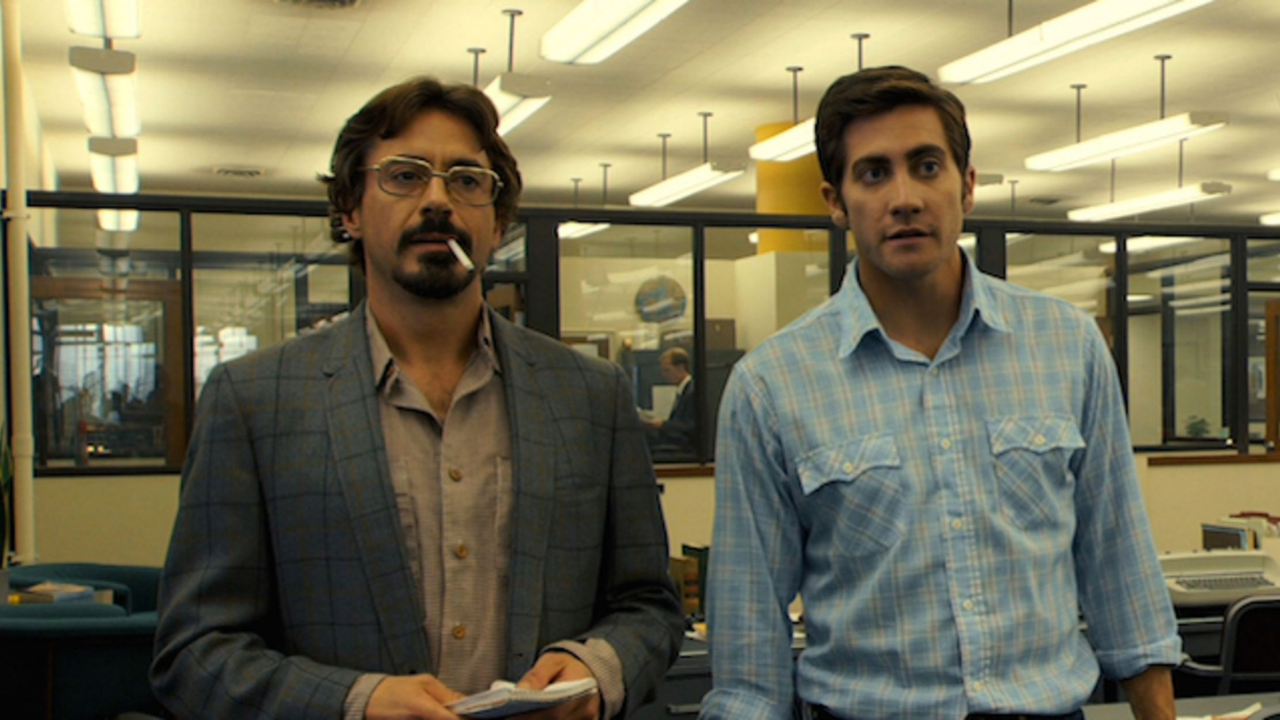 Zodiac
Tuesday, November 9, 2021
In Person Events
Tue Nov 9 :

Post-screening discussion w/ MZS, Adam Nayman & Megan Abbott

Buy Tickets
SHOWTIMES AT IFC CENTER
Screening as part of our series Movies with MZS, an ongoing program of audience discussions hosted by critic Matt Zoller Seitz.
"The title character of Zodiac is born on the fourth of July: as bombs burst in air on Independence Day, 1969, an All-American couple are gunned down in Vallejo, California as their car radio blares Donovan's peace-and-love anthem "Hurdy Gurdy Man." The idea of a spectral outsider intruding on everyday life gives David Fincher's thriller its metaphysical heft; adapted from Robert Graysmith's true-crime accounts of the decades-long search for a serial killer whose physical elusiveness was matched by his pop-cultural omnipresence, Zodiac transcends its own procedural tropes to offer a meditation on the relationship between time and obsession. The further the Zodiac's crimes recede into history, the more determined amateur sletuth Graysmith (Jake Gyllenhaal) is to solve them; whether he's driven by a sense of justice, morbid curiosity or defiance of the uncertainty principle is as difficult to identify as his quarry.
A dense, multifaceted cinematic object, Zodiac represented a turning point for Fincher in its use of digital cinematography (devised by Harris Savides to replicate the celluloid textures of the 1970s), as well as a rebuttal of sorts to the director's career-making hit Se7en. In that film, the villain was presented as a supreme, all-knowing guru—a mastermind bending reality to his will—but Zodiac makes it clear that the culture-wide fascination with the Zodiac stems less from his charisma and brilliance than the latent prurience of a society enthralled by gory details. By breaking the narrative up into three sections each focused on a different pursuer — journalist Paul Avery (Robert Downey Jr); cop Dave Toschii (Mark Ruffalo), and puzzle afficanado Robert—Fincher and screenwriter James Vanderbilt examine and juxtapose institutional and individual responses; as usual for Fincher, the same mysteries that prove irresistible for his characters are the ones that consume them mind, body and soul. By subverting our trashier expectations of a genre its maker helped to redefine, Zodiac not only surpasses its predecessor but stands as one of the most spacious, suggestive, and terrifying American movies of its era—a maddening illustration of the principle that the longer you look at (or for) something, the less likely you are to really find it." – Adam Nayman
Post-screening discussion with critic Matt Zoller Seitz, Adam Nayman, film critic for The Ringer and author of David Fincher: Mind Games, and Megan Abbott, Edgar-award winning novelist, television writer, and true crime obsessive.
Year 2007
Running Time 157 minutes
Director David Fincher
Cast Jake Gyllenhaal, Robert Downey Jr.
Accessibility Assistive Listening, T-Coil