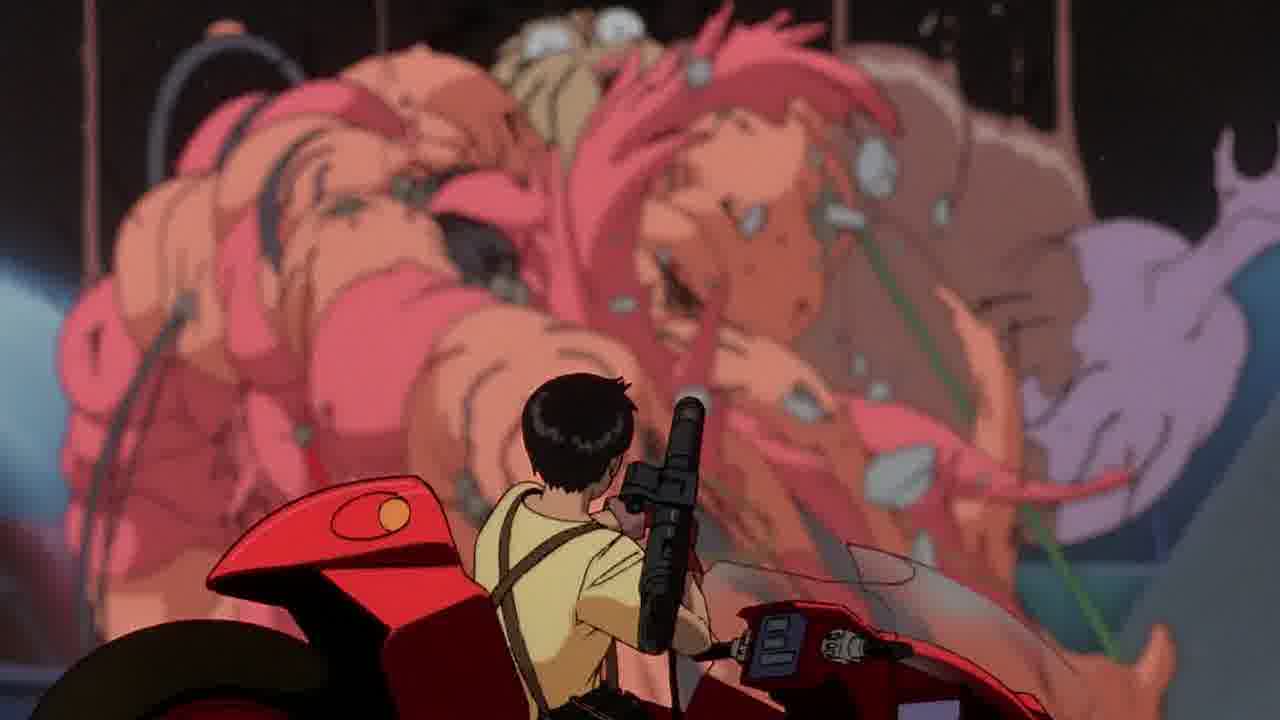 Akira
Friday, September 20 - Saturday, September 21, 2019
Showtimes
Staff Pick! Chosen by Katie.
"The modern anime masterpiece that was instrumental in bringing Western audiences attention to the exciting world of anime, Akira is still a marvel of imagination and art. Backed by a then-record budget of US$10 million, Akira was the most expensive feature-length anime ever created. Its cutting-edge artwork rivaled anything yet produced by Disney or any other major Western creators of popular animation and its sophisticated story-line – replete with multidimensional characters and scenes of graphic violence – appealed to both adult and teenage audiences worldwide.
"Envisioning a future where the streets of post-apocalyptic Neo-Tokyo are ruled by biker gangs and the upper echelons of society is ridden with intrigue, the movie concerns the exploits of Shotaro Kaneda (Mitsuo Iwata) and Tetsuo Shima (Nozomu Sasaki), two members of a teenage biker gang engaged in a brutal turf war with a rival group of thugs called the Clowns. While running for his life with two Clowns in close pursuit, Tetsuo encounters the mysterious Takashi (Tatsuhiko Nakamura), a young boy recently rescued from a government research facility by a terrorist group known as the Resistance.

"The movie consists of 2,212 shots and 160,000 single pictures, almost three times more than usual, using 327 different colours (another record in animated movies), fifty of which were exclusively created for the film. The reason for this statistic is that most of the movie takes place at night, a setting that is traditionally avoided by animators because of the increased colour requirements. This was also one of the first Japanese anime films to have the character's voices recorded before they were animated. While this is the typical practice in Western animation, in Japan the animation is generally produced first. Furthermore, the music for the film was completed before any of the composers saw a frame of film or read the script so, of course, the music had to be re-edited to fit certain scenes." – Horror News (2013)
Screening as part of our Summer 2019 series, "Waverly Midnights: Staff Picks."
Country Japan
Year 1988
Accessibility Assistive Listening, T-Coil
Running Time 124 minutes
Director Katsuhiro Otomo
Writer Katsuhiro Otomo (manga & screenplay), Izo Hashimoto (screenplay)
Editor Takeshi Seyama
Cinematographer Katsuji Misawa