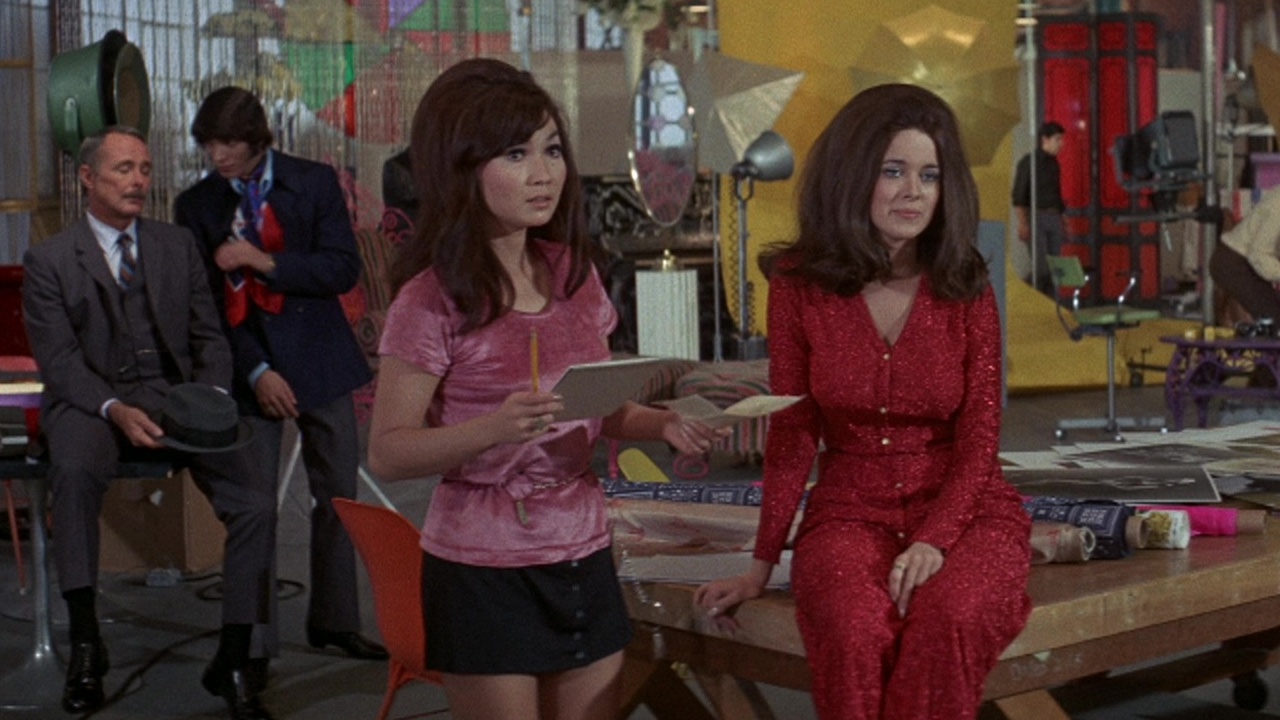 Beyond the Valley of the Dolls
Friday, August 23 - Saturday, August 24, 2019
Showtimes
Staff Pick! Chosen by Asha.
"Russ Meyer claimed BEYOND THE VALLEY OF THE DOLLS to be satire, but no amount of disjunctive editing or hyper-saturated colors can disguise his fixation with the breasts of his female stars, which exceeds unconscious fetish or even knowing obsessive focus; the film could be alternately titled A Treatise on Tits, as its maker wants to forever roam between the largest pair he can find. While Roger Ebert's screenplay contains overt jabs at Hollywood's culture of exploitation, BEYOND THE VALLEY OF THE DOLLS cannot be called anything but sincere regarding its penchant for buxom female anatomy. This is the living, breathing cine-embodiment of blue balls, a film of pent-up desire for ample flesh comported straight from the pages of Penthouse—and the imagined activity inside the Playboy mansion's bedrooms.
"The plot borrows so loosely from Jacqueline Susann's novel that an opening disclaimer ensures its separation, though anyone with functioning eyes and ears will likely know that almost from the jump. As the Carrie Nations, a trio of female rockers, work their way through the Hollywood Hills, they meet up with their fair share of sex, drugs, and Rolls Royces, but the filmmaking couldn't be less interested in explicitly admonishing these pursuits. As lead-singer Kelly (Dolly Read) first encounters Z-Man (John LaZar), a coke-fueled promoter, Meyer fragments the surrounding party by providing brief flashes of interactions that draw interest away from each character's psychology and toward the furniture, clothing, and drapery as the star personas. That is, it's the '60s, man, and consumer culture ironically dictates that people be defined by their chosen accoutrements, not the other way around.
"There's nothing oppositional, and thus outwardly political, about the film, because its subversion works from the inside out, violently ripping its way up from the entrails of the belly of the beast. But never its breasts. Those remain forever sacred." – Slant
Screening as part of our Summer 2019 series, "Waverly Midnights: Staff Picks."
Country USA
Year 1970
Accessibility Assistive Listening, T-Coil
Running Time 109 minutes
Director Russ Meyer
Writer Roger Ebert (screenplay), Russ Meyer (story)
Editor Dann Cahn, Dick Wormell
Cinematographer Fred J. Koenekamp
Cast Dolly Read, Cynthia Myers, Marcia McBroom, John Lazar, Michael Blodgett, Edy Williams, Phyllis Davis