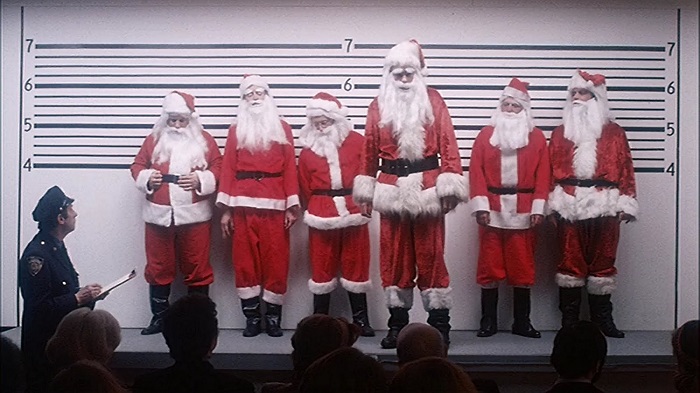 Christmas Evil
Friday, December 22 - Sunday, December 24, 2017
DCP Projection
"Writer/director Lewis Jackson's 1980 film is different. In fact it's not a slasher film by any stretch. It's less a blood-soaked parade of slaughtered teenagers than a character study about a man of principle who is pushed past the breaking point. What it is, more specifically, is the Taxi Driver of holiday films.
Harry (prolific character actor Brandon Maggart in a rare star turn) loves Christmas. By the time he became an adult it had become a mania. He leaves his decorations up all year long. He hums Christmas carols in July. He loves Christmas so much that he takes a job working on the assembly line at a toy factory. But more than a mere elf, Harry wants to be Santa himself.
After a mirror scene (again on a par with the mirror scene in Taxi Driver) in which Harry swings between giddy joy and rage as he makes his final decision, he dons his Santa suit and makes the rounds of the city, distributing toys to deserving children and brutally murdering greedy, smug, self-centered adults. The police, meanwhile, based on eyewitness accounts, are also making the rounds of the city arresting every Santa they find.
The success of the film (which is also John Waters' favorite holiday gem) is due in no small part to Brandon Maggart's brilliant performance. It's a rare thing to say about the lead in a grainy, low-budget horror movie, but despite all the insanity and the killing, he manages to turn Harry into an extremely sympathetic character. After all, he simply expects that people will behave with some common decency and a little selflessness—that they'll care about one another and be nice." – Den of Geek
Rating R
Year 1980
Running Time 100 minutes
Director Lewis Jackson