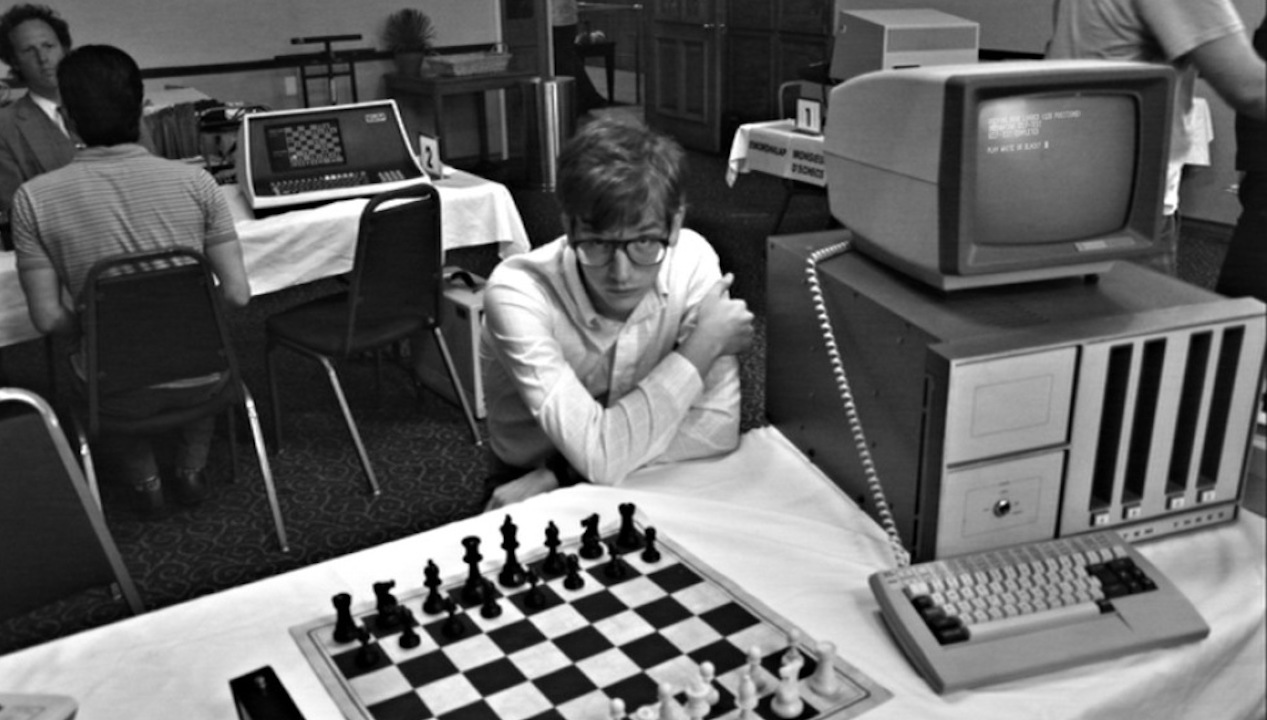 Computer Chess
In Person Events
Sat Aug 25:

Q&A with dir. Andrew Bujalski following 2:50 show!
World premiere of new 35mm print of Bujalski's 2013 cult classic – First time ever on 35mm! One show only!
Click here for online tickets!
Sat Aug 25: 2:50 PM
Andrew Bujalski's latest film, SUPPORT THE GIRLS, opens Fri Aug 24!
Click here for online tickets!
"Andrew Bujalski, writer/director of Funny Ha Ha (2002), Mutual Appreciation (2005) and Beeswax (2009), here modifies mumblecore to mumblecode, taking us back to a time when computers (as we know them) were in an embryonic state, geeks were still off the mainstream grid and apocalyptic changes in the industry were just around the corner….
Shot (but for one glitchy sequence) in black-and-white on an outdated Sony AVC-3260 tube camera and in 4:3 aspect ratio, Computer Chess looks as amiably clunky as the early computers it celebrates. If the singularity – the moment when artificial intelligence exceeds and merges with its human counterpart – is what these pioneering programmers are seeking, then in its way Bujalski's filmmaking aims for its visual analogue….
As these academic researchers, corporate drones and oddball independents are forced to share the hotel with a touchy-feely couples' therapy group, they too find themselves struggling to break free of limited mindsets and be reborn. Meanwhile the hotel itself takes on the labyrinthine aspect of Resnais's Marienbad – a place where games are played, traps are set and escape seems all but impossible. The code for the future has already been written – and as Bujalski seeks to discover who we are and where we come from (not just as wired-in 21st-century users but as human beings), it's checkmate in 12 hilariously unorthodox moves." – Sight and Sound
Bujalski's latest, SUPPORT THE GIRLS, opens Fri Aug 24
Country USA
Year 2013
Director Andrew Bujalski