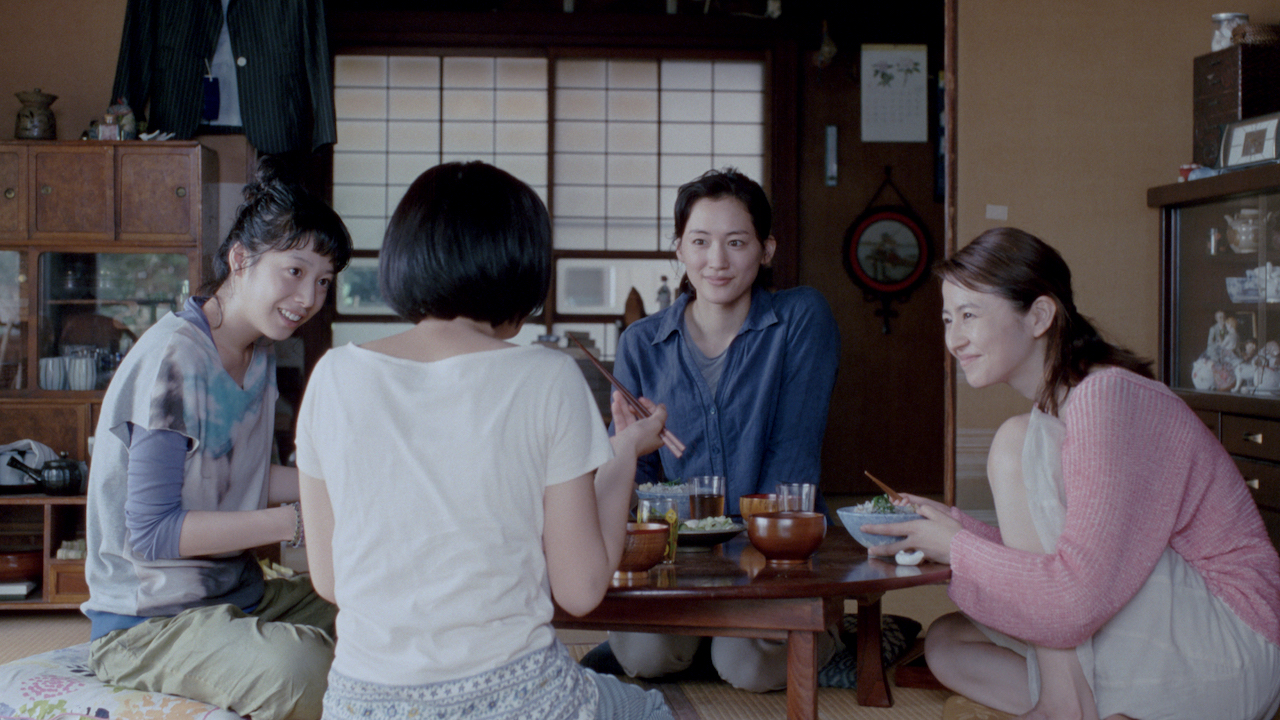 Our Little Sister
Showtimes
"
Japanese melodrama

OUR LITTLE SISTER

is the rare film that captures the everyday pleasures and anguishes of family life. Adapted from Akimi Yoshida's serialized manga comic, writer/director
Hirokazu Kore-eda
focuses on three adult sisters who choose to adopt their teenage stepsister. These women are not psychoanalyzed, nor are their lives reduced to their romantic entanglements. Instead, Kore-eda
presents the lives of his heroines as unsensational, defined by small gestures.

OUR LITTLE SISTER

is, in that sense, slower than most family dramas since it's less reliant on contrived plot twists and bombastic confrontations. Instead, Kore-eda represents four optimistic women enjoying each other's company, trying to find romance, eating good food and mourning the loss of friends and loved ones. I can't think of another recent domestic drama that is simultaneously so optimistic and so melancholic.
"OUR LITTLE SISTER doesn't have much of a traditional plot. Rather, the film breaks down into a series of vignettes about older sister Sachi (Haruka Ayase), and her siblings. That may sound deadly dull, but what's most surprising about Kore-eda's approach is how easy it is to get into a film where not a lot happens. Still, if you're looking for a traditional narrative, be forewarned: several of the most eventful plot points take place during the first 15 minutes. Sachi and her sisters live together in the seaside village of Kamakura. When their father dies, they meet stepsister Suzu (Suzu Hirose) at the funeral service.
"Sachi intuitively guesses that Suzu needs a change of scene, based on the selfish behavior of Suzu's mother. So they offer to take Suzu with them in a quietly affecting scene that evokes the bittersweet feeling you get when you part with loved ones, despite knowing you'll be together again very soon. Here's where the influence of master dramatist Yasujiro Ozu (Tokyo Story, Late Spring) is most apparent. Like Ozu, Kore-eda focuses on simple moments of heartbreaking melancholy and swoon-worthy happiness. So if you look at the scene where Sachi and her sisters invite Suzu to live with them, you'll immediately notice how spare, and deceptively uncomplicated the scene is.
"Kore-eda doesn't broadcast how you're supposed to feel about his protagonist's actions beyond a point. Protagonists are never overshadowed by their need to make themselves happy, or allow themselves to transcend a defining woe or concern. OUR LITTLE SISTER is more delicate than Kore-eda's other recent Ozu-inspired melodramas. That doesn't mean it's either better or worse than those films. But OUR LITTLE SISTER's deceptive air of lightness is a remarkable source of of small-scale joy and sadness. This is the kind of movie that encourages viewers to slow down and take stock of their lives' defining little moments. Here's hoping it finds a receptive American audience." – Simon Abrams, RogerEbert.com

Country Japan
Language In Japanese with English subtitles.
Accessibility Assistive Listening, T-Coil
Running Time 127 minutes
Director Hirokazu Kore-eda
Writer Akimi Yoshida (manga), Hirokazu Kore-eda (screenplay)