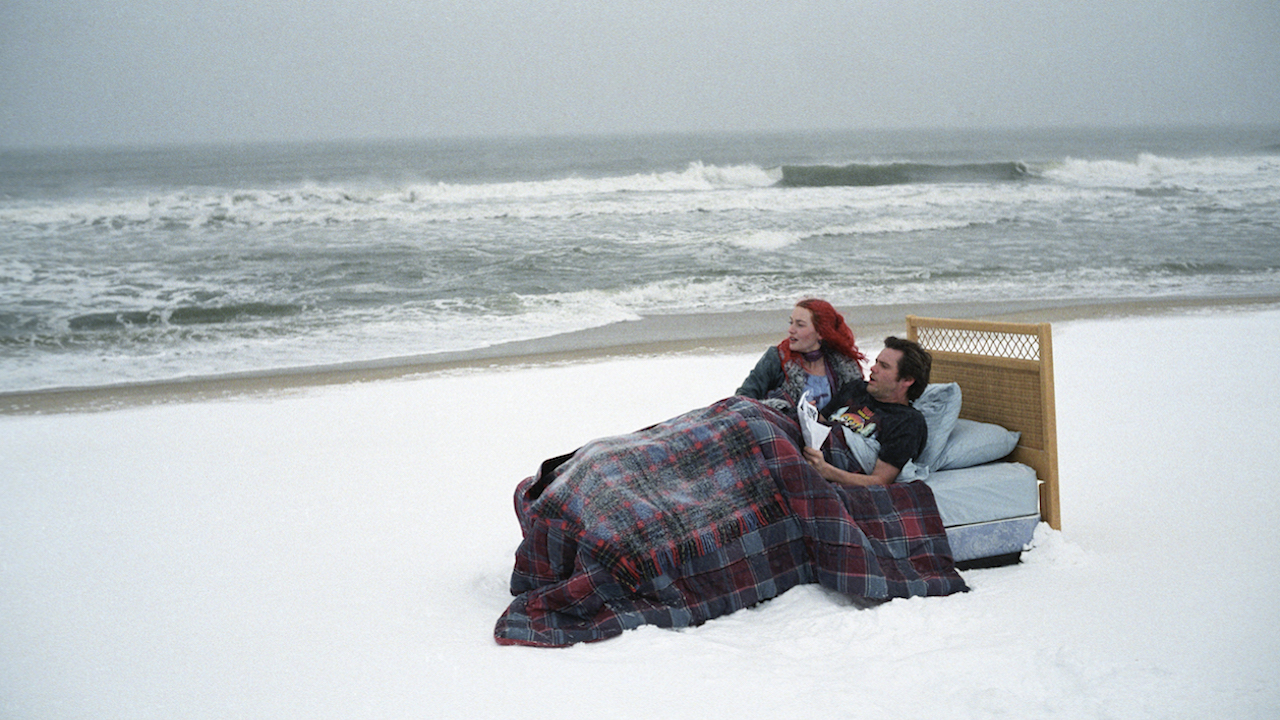 Eternal Sunshine of the Spotless Mind
Friday, July 19 - Sunday, July 21, 2019
Staff Pick! Chosen by April.
"It's one thing to wash that man right outta your hair, and another to erase him from your mind. ETERNAL SUNSHINE OF THE SPOTLESS MIND imagines a scientific procedure that can obliterate whole fields of memory — so that, for example, Clementine can forget that she ever met Joel, let alone fell in love with him. "Is there any danger of brain damage?" the inventor of the process is asked. "Well," he allows, in his most kindly voice, "technically speaking, the procedure is brain damage."

The movie is a labyrinth created by the screenwriter Charlie Kaufman, whose Being John Malkovich and Adaptation were neorealism compared to this. Jim Carrey and Kate Winslet play Joel and Clementine, in a movie that sometimes feels like an endless series of aborted Meet Cutes. That they lose their minds while all about them are keeping theirs is a tribute to their skill; they center their characters so that we can actually care about them even when they're constantly losing track of their own lives. ("My journal," Joel observes oddly, "is … just blank.")

For Jim Carrey, this is another successful attempt, like The Truman Show and the underrated The Majestic, to extend himself beyond screwball comedy. He has an everyman appeal, and here he dials down his natural energy to give us a man who is so lonely and needy that a fragment of memory is better than none at all. Kate Winslet is the right foil for him, exasperated by Joel's peculiarities while paradoxically fond of them.

Kaufman's mission seems to be the penetration of the human mind. His characters journeyed into the skull of John Malkovich, and there is a good possibility that two of them were inhabiting the same body in "Adaptation." But both of those movies were about characters trying to achieve something outside themselves. The insight of ETERNAL SUNSHINE is that, at the end of the day, our memories are all we really have, and when they're gone, we're gone." – Roger Ebert (2004)
Screening as part of our Summer 2019 series, "Weekend Classics: Staff Picks."
Country USA
Year 2004
Running Time 108 minutes
Director Michel Gondry
Writer Charlie Kaufman (story & screenplay), Michel Gondry (story), Pierre Bismuth (story)
Editor Valdis Oskarsdottir
Cinematographer Ellen Kuras
Cast Jim Carrey, Kate Winslet, Kirsten Dunst, Mark Ruffalo, Elijah Wood, Thomas Jay Ryan