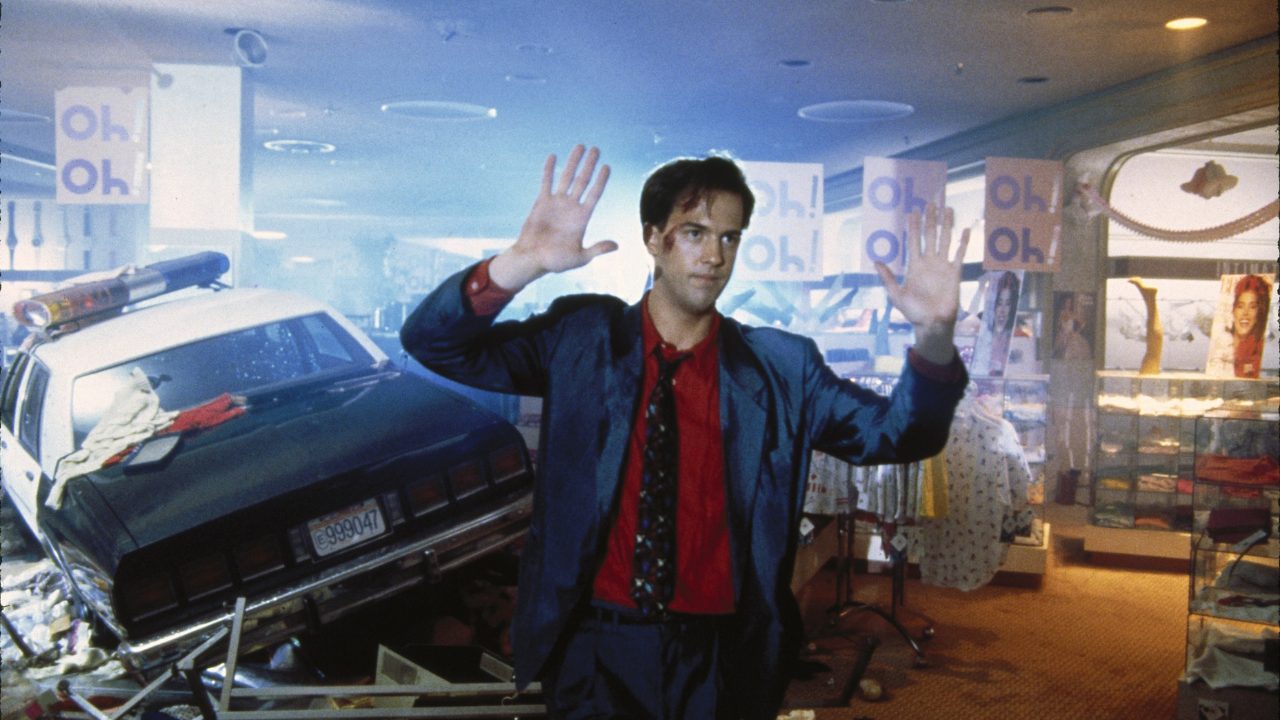 Miracle Mile
Wednesday, September 22, 2021
Screening will be followed by conversation with critic Matt Zoller Seitz and Walter Chaw, author of a monograph on the film, plus book signing.
"MIRACLE MILE's inciting moment comes in the small hours with the answering of a payphone outside an all-night Googie diner along Los Angeles' Miracle Mile. Small-time jazz musician Harry Washello (Anthony Edwards), unforgivably late for a date with his new girlfriend Julie (Mare Winningham), is the guy on this side of the line. On the other? Someone in a silo trying to apologize to an estranged dad as the buttons press and the missiles fly. It could be a prank. It could be that there's seventy-five minutes left until the world is a lake of fire. The rest of the film unfolds in real time as Harry desperately tries to wake a sleeping city, save his lady fair, and somehow find a place on the planet where they can begin the process of rebuilding.
Steve De Jarnatt's MIRACLE MILE may have been a casualty of the fall of the Berlin Wall at the end of 1989, stealing its thunder by largely burying our Cold War nuclear terror in the rubble of the Red Menace. Audiences at the time may not have been in the mood for a film that so cruelly captures the paranoia and nihilism of the Me Generation; of Reagan's Voodoo Economics, eradication of the Fairness Doctrine, and evangelical promotion of America as the City on the Hill. Maybe they were just turned off by the way MIRACLE MILE jumps the tracks from familiar romantic comedy to apocalyptic hellscape in a disorienting, some would say jarring, way. Its Tangerine Dream score, one of the few the band cut directly to the film, is a classic in of itself and even among all the iconic scores the Dream produced during this period. When all is said and done, MIRACLE MILE's closest analogue in style and tone may be Martin Scorsese's After Hours.
Sundance in 1989 was the year everything changed in the indie movie scene. Nancy Savoca's True Love took the Grand Jury prize and Steven Soderbergh's sex, lies, and videotape won took the Audience honors, while movies like Michael Lehmann's Heathers and De Jarnatt's MIRACLE MILE found an enduring cult following in the decades since. Once a curiosity, a precious secret passed among a generation of video store geeks hoarding the VHS, MIRACLE MILE has steadily gained in esteem. Rarely seen in its original aspect ratio until a Kino/Lorber restoration and BluRay release in 2015, modern viewers of MIRACLE MILE can stay until after the end credits to hear an audio "Easter Egg" De Jarnatt intended as one, last, destabilizing joke for audiences as they head out of the theater." – Walter Chaw
Image courtesy of Park Circus/MGM
Running Time 87 minutes
Distributor Park Circus
Director Steve De Jarnatt
Accessibility Assistive Listening, T-Coil