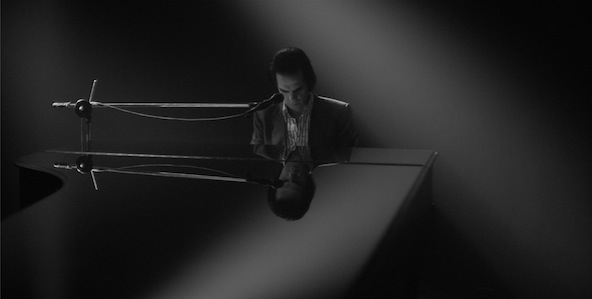 One More Time with Feeling
Thursday, December 1, 2016
Back by popular demand! 9:30pm show SOLD OUT! Added screening at 9:45pm!
In 3D!
A unique cinema event directed by Andrew Dominik (Chopper, The Assassination of Jesse James by the Coward Robert Ford, Killing Them Softly), ONE MORE TIME WITH FEELING is an opportunity to hear Skeleton Tree, the sixteenth studio album from Nick Cave & the Bad Seeds. The film originally screened in cinemas across the world on Sep 8, 2016, immediately prior to the release of Skeleton Tree the following day.
Originally a performance based concept, ONE MORE TIME WITH FEELING evolved into something much more significant as Dominik delved into the tragic backdrop of the writing and recording of the album. Interwoven throughout the Bad Seeds' filmed performance of the new album are interviews and footage shot by Dominik, accompanied by Cave's narration and improvised rumination.
Filmed in black-and-white and color, in both 3D and 2D, the result is fragile, raw and a true testament to an artist trying to find his way through the darkness.
More details: nickcave.com
Running Time 110 minutes
Director Andrew Dominik