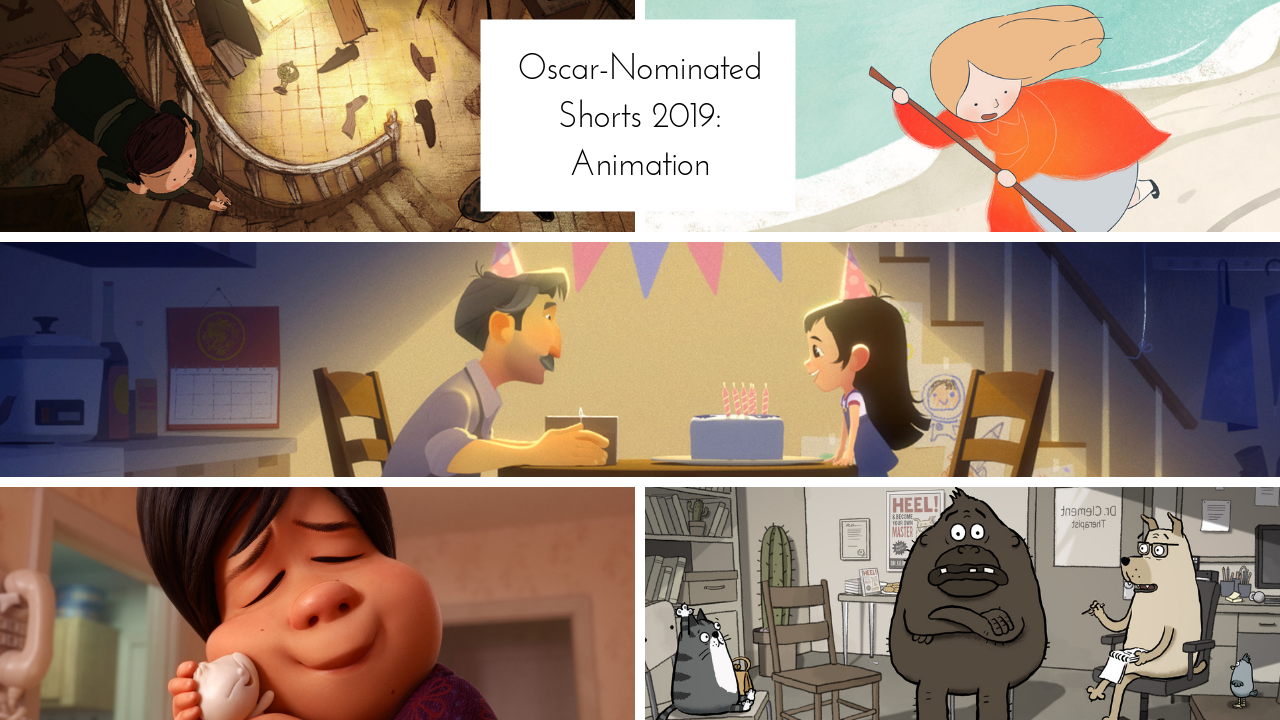 Oscar-Nominated Shorts 2019: Animation
Wednesday, February 6 - Tuesday, March 26, 2019
Program plays through the month of February; additional showtimes to be announced. Suitable for children ages 9 and up. Themes dealt with include Alzheimer's Disease, divorce and the death of a parent, and there is some imagery in WEEKENDS that might frighten children under 8.
Bao (dir. Domee Shi, USA, 8 min.)
Late Afternoon (dir. Louise Bagnall, Ireland, 10 min.)
Animal Behaviour (dirs. Alison Snowden and David Fine, Canada, 14 min.)
Weekends (dir. Trevor Jimenez, USA, 16 min.)
One Small Step (dirs. Andrew Chesworth and Bobby Pontillas, USA, 8 min.)
In addition to the five nominated films, the program also includes two other acclaimed animated shorts:
Wishing Box (dirs. Wenli Zhang & Nan Li, USA, 6 min.)
Tweet Tweet (dir. Zhanna Bekmambetova, Russia, 11 min.)

Film Synopses:

Bao
In Disney•Pixar's "BAO," an aging Chinese mom suffering from empty nest syndrome gets another chance at motherhood when one of her dumplings springs to life as a lively, giggly dumpling boy. Mom excitedly welcomes this new bundle of joy into her life, but Dumpling starts growing up fast, and Mom must come to the bittersweet revelation that nothing stays cute and small forever. This short film from Pixar Animation Studios and director Domee Shi explores the ups and downs of the parent-child relationship through the colorful, rich, and tasty lens of the Chinese immigrant community in Canada.

Late Afternoon
Emily is an elderly woman who lives between two states, the past and the present. She journeys into an inner world, reliving moments from her life. She searches for a connection within her vivid, but fragmented memories.

Animal Behaviour
Dealing with what comes naturally isn't easy, especially for animals. In "ANIMAL BEHAVIOUR", the latest animated short from the Oscar®-winning team of Alison Snowden and David Fine (Bob's Birthday), five animals meet regularly to discuss their inner angst in a group therapy session led by Dr. Clement, a canine psychotherapist.
Weekends

"WEEKENDS" is the story of a young boy shuffling between the homes of his recently divorced parents. Surreal dream-like moments mix with the domestic realities of a broken up family in this hand-animated film set in 1980's Toronto.
One Small Step
Luna is a vibrant young Chinese American girl who dreams of becoming an astronaut. From the day she witnesses a rocket launching into space on TV, Luna is driven to reach for the stars. In the big city, Luna lives with her loving father Chu, who supports her with a humble shoe repair business he runs out of his garage. As Luna grows up, she enters college, facing adversity of all kinds in pursuit of her dreams.

Filmmaker Biographies:
ALISON SNOWDEN grew up in Nottingham, England. Her keen interest in art and storytelling led to a degree in graphic design, at which time she also dabbled in animation. She soon discovered that her real interest lay in animation and filmmaking. Snowden attended Britain's National Film and Television School, and it was there that she met her partner and husband, David Fine. She worked in live action and animation and collaborated with Fine on her student film, "SECOND CLASS MAIL", which won several awards and earned an Oscar® nomination. Shortly thereafter, Snowden and Fine moved to Canada and worked in live action and animation at the NFB, where they co-directed the animated short George and Rosemary, which earned many awards, including a Genie and first prize at the Zagreb Animation Festival, in addition to garnering their second Oscar nomination. They also made the short film "IN AND OUT". In 1989, they moved back to London, England, where they created the Oscar-winning Bob's Birthday, which led to the acclaimed Comedy Central/Channel 4/Global TV series "BOB AND MARGARET". Snowden also wrote episodes of the animated series "PEPPA PIG", for which Snowden and Fine's daughter Lily provided the voice of Peppa. With Fine, Snowden also produced several TV ads and developed the series "SHAUN THE SHEEP". Back in Canada, they produced the series "RICKY SPROCKET: SHOWBIZ BOY" for Nickelodeon and Teletoon in addition to developing other projects. They have just completed their latest short film for the NFB, "ANIMAL BEHAVIOUR". (Animal Behaviour)
DAVID FINE was born in Toronto and has been making films since the age of 13. At 17, his animated short "THE ONLY GAME IN TOWN" was nominated for a Genie. As a teenager, Fine was offered the opportunity to work in the NFB's animation department, where he was inspired by many talented filmmakers and created three short films. At the age of 19, he produced and directed a half-hour documentary about a Toronto viola maker. The film aired on the CBC and won a number of awards. Fine then moved to the UK and attended the National Film and Television school, where he met his partner (and wife) Alison Snowden. They collaborated on her student film, "SECOND CLASS MAIL", which won several awards and earned an Oscar® nomination. Shortly thereafter, Snowden and Fine moved to Canada and worked in live action and animation at the NFB, where they co-directed the animated short "GEORGE AND ROSEMARY", which earned many awards, including a Genie and first prize at the Zagreb Animation Festival, in addition to garnering their second Oscar nomination. They also made the short film "IN AND OUT". In 1989, they moved back to London, England, where they created the Oscar-winning "BOB'S BIRTHDAY", which led to the acclaimed Comedy Central/Channel 4/Global TV series "BOB AND MARGARET". Snowden and Fine have also worked on several TV ads and produced the Nickelodeon/Teletoon series "RICKY SPROCKET: SHOWBIZ BOY", in addition to developing the series "SHAUN THE SHEEP", among other projects. "ANIMAL BEHAVIOUR", their latest short film, was produced by the NFB. (Animal Behaviour)
DOMEE SHI began as a story intern at Pixar Animation Studios in June 2011, and was soon hired as a story artist on the Academy Award©-winning feature film "INSIDE OUT." Since then she has worked on the feature films "THE GOOD DINOSAUR," "INCREDIBLES 2" and the upcoming "TOY STORY 4." In 2015 she began pitching some ideas for short films, and soon was green lit to write and direct "BAO." A whimsical story loosely based on her own experiences growing up as an only child, and set in the Chinese community in Toronto, Canada, "BAO" screened in front of "INCREDIBLES 2." Domee graduated from the animation program at Sheridan College, where her love of storytelling and animation really blossomed. Her biggest creative influences are the works of Studio Ghibli, 90s anime, Disney, Pixar, as well as the works of Yasujiro Ozu, Ang Lee, and Bong Joon Ho. Domee was born in Chongqing, China and resided in Toronto, Canada most of her life. She currently lives in Oakland, California and notes that her love of animation is only rivaled by her love of cats. (Bao)
LOUISE BAGNALL is an Irish filmmaker and a creative director at Cartoon Saloon in Kilkenny. Louise has directed several short animated films including "CU´L AN TI´," "LOOSE ENDS" and "DONKEY." She has worked as a character designer on "PUFFIN ROCK" and "THE BREADWINNER" and as a storyboard artist on the upcoming feature film "WOLFWALKERS." Louise is currently the assistant director on Nora Twomey's Netflix film "MY FATHER'S DRAGON." (Late Afternoon)
BOBBY PONTILLAS went to see Disney's animated film Tarzan in 1999 and was blown away by the groundbreaking visuals. Since then, Bobby has been determined to make an impact in the animation industry, and is committed to share his unlimited energy and infectiously positive perspective to every project. Bobby brings a wealth of artistic experience, having worked on a slew of productions at Blue Sky and Disney, he inspires the crew to expand their artistic horizons on a daily basis. Bobby hopes to steward an era of change to the visual styles of modern cinema. (One Small Step)
ANDREW CHESWORTH grew up passionate about drawing, reading, music, and movies. Disney's Who Framed Roger Rabbit made a definitive impression on Andrew for its quintessential movie magic. Chesworth's love for both the liberal arts and the visual arts defined his decision to pursue a career in animation. His diverse experiences directing short films and commercials in CG, 2D, and stop-motion, as well as many years animating for Disney, define his broad artistic taste. Chesworth believes that stories worth telling can inspire people of any culture or background. (One Small Step)
TREVOR JIMENEZ is a Canadian born filmmaker living in Berkeley, who has worked as a story artist in animation for over 10 years- most notably at Pixar & Henry Selick's Cinderbiter studios. His student film "KEY LIME PIE" (2007) screened at numerous international festivals including Annecy & Mike Judge's "THE ANIMATION SHOW VOL. 4". Weekends is his first professional film and a personal labor of love he had worked on for over 10 years. Currently Trevor works in the story department at Pixar while pursuing his own creative projects. (Weekends)