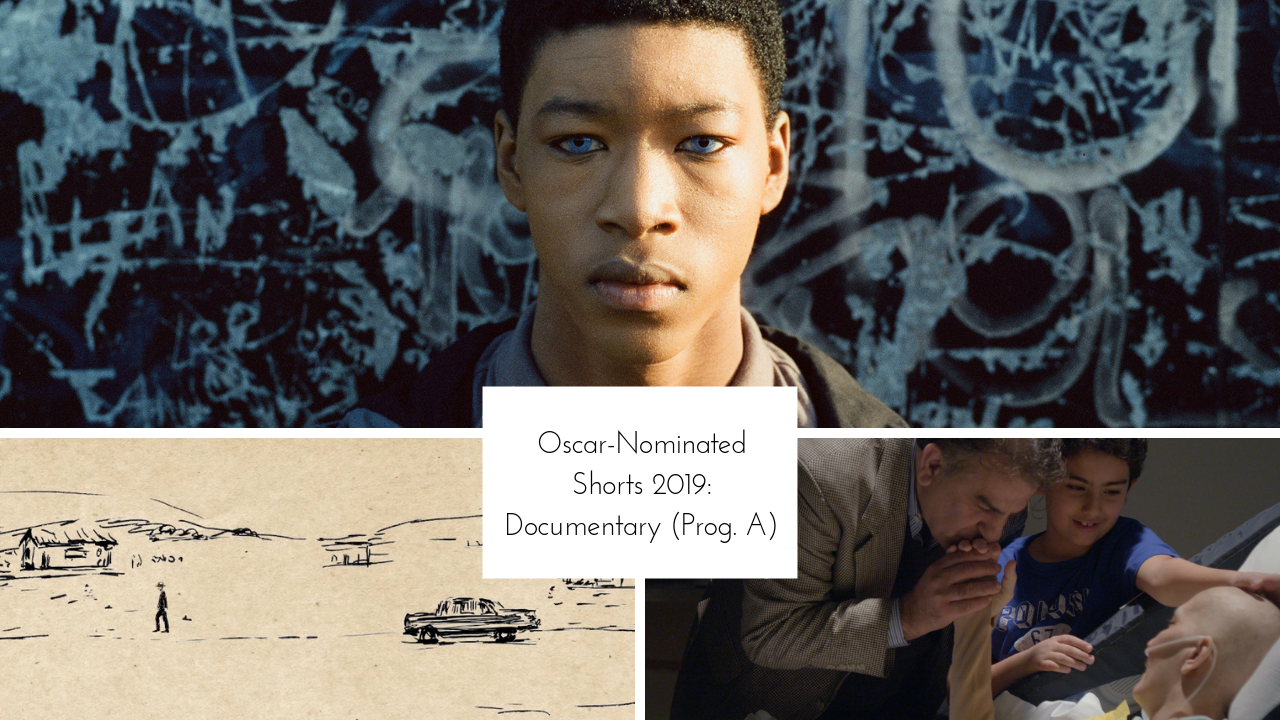 Oscar-Nominated Shorts 2019: Docs (Prog. A)
Friday, February 8 - Thursday, February 28, 2019
Program plays through the month of February; additional showtimes to be announced.
DOCUMENTARY SHORTS, PROGRAM A – 81 minutes
Black Sheep (dir. Ed Perkins, UK, 27 min.)
End Game (dirs. Rob Epstein and Jeffrey Friedman, USA, 40 min.)
In addition to the above nominated films, this program also includes the following acclaimed documentary short:
The Driver is Red (dir. Randall Christopher, USA, 13 min.)
Film Synopses:
Black Sheep
Everything changed for Cornelius Walker on 27 November 2000 when Damilola Taylor was killed. Damilola was 11, the same age as Cornelius. He lived five minutes away. He had the same skin colour. Cornelius's mother, scared for her son's safety, moved their family out of London. Cornelius suddenly found himself living on a white estate run by racists. But rather than fight them, Cornelius decided to become more like the people who hated him. They became his family and kept him safe. And in return, Cornelius became submerged in a culture of violence and hatred. But as the violence and racism against other black people continued, Cornelius struggled to marry his real identity with the one he had acquired. Filmed with non-actors in locations where the real events took place 15 years ago, Black Sheep blurs the boundaries between documentary and fiction to pose difficult and highly topical questions about race and identity. Who decides what makes us who we are? And what compromises are we prepared to make in order to fit in?

End Game
Where will loved ones spend their last days? Who will be in the room? What feelings and secrets need to be shared with family before it is too late? Acclaimed Academy Award-winning filmmakers Rob Epstein and Jeffrey Friedman ("THE TIMES OF HARVEY MILK," "THE CELLULOID CLOSET," "PARAGRAPH 175") probe these questions and more in the context of two San Francisco Bay Area medical facilities on the forefront of creating new paradigms for end of life decisions with grace.

The Driver is Red
Set in Argentina 1960, this true crime documentary follows the story of secret agent Zvi Aharoni as he hunted down one of the highest ranking Nazi war criminals on the run. Written, directed, drawn, and animated by Randall Christopher, the film was hailed "an artistic triumph" by Kurt Brokaw of The Independent. It has been officially selected to 97 film festivals including the 2018 Sundance Film Festival, along with numerous special screenings at places such as The Los Angeles Museum of the Holocaust and Pixar Animation Studios. It was won 35 awards. THE DRIVER IS RED world premiered in October 2017 at Hot Springs Documentary Film Festival.

Filmmaker Biographies:
ED PERKINS is a 2015 BAFTA Breakthrough Brit. After directing the behind-the-scenes documentaries for "THE IMPOSTER," "PROJECT NIM" and "SEARCHING FOR SUGAR MAN," Ed made his debut feature documentary "GARNET'S GOLD," winning a Grierson Award for Best Newcomer. Since then he has directed "BARE KNUCKLE FIGHT CLUB" and numerous short films including "BLACK SHEEP" which has won 10 international awards. He is currently directing his second feature documentary. (Black Sheep)
ROB EPSTEIN'S groundbreaking films include "WORD IS OUT" (1977); "THE TIMES OF HARVEY MILK" (Academy Award, Best Documentary Feature, 1984); "THE AIDS SHOW" (1986); "COMMON THREADS: STORIES FROM THE QUILT" (Academy Award, Best Documentary Feature, 1990); "WHERE ARE WE? OUR TRIP THROUGH AMERICA" (1991); "THE CELLULOID CLOSET" (Emmy award for non-fiction Directing, 1995); "PARAGRAPH 175" (Directing Award, Sundance Film Festival, 2000); and the dramatic narrative features "HOWL" (National Board of Review Freedom of Expression Award, 2010), starring James Franco and Jon Hamm, and "LOVELACE" (2013), starring Amanda Seyfried, Peter Sarsgaard, and Sharon Stone. Rob is he recipient of two Academy Awards®, five Emmy Awards, three Peabodys, a Guggenheim Fellowship, IDA Pioneer Award, and Cinema Eye Legacy Award. Epstein is a professor at California College of the Arts. He co-authored "THE ART OF NONFICTION MOVIE MAKING" (Praeger, 2012) with Jeffrey Friedman and Sharon Wood. (End Game)
JEFFREY FRIEDMAN is an award-winning film director, editor, and producer. His directing credits include the documentaries "PARAGRAPH 175" (Sundance directing award, 2000), "THE CELLULOID CLOSET" (Emmy for non-fiction directing, 1995), "COMMON THREADS: STORIES FROM THE QUILT" (Academy Award, Best Documentary Feature, 1989)—the latter two of which he also co-edited—and the dramatic narrative features "HOWL" (Sundance opening night, 2010), starring James Franco and "LOVELACE" (2013) starring Amanda Seyfried. Friedman received his film training in the New York editing rooms of such films as "MARJOE" (Academy Award, Documentary Feature, 1972); "THE EXORCIST" (1973); and "RAGING BULL" (Academy Award, Editing, 1980). His other editing credits include the Oscar-nominated documentary short "KINGS POINT" (2012). Friedman has taught film in the Stanford graduate documentary program, and co-authored "THE ART OF NONFICTION MOVIE MAKING" (Praeger, 2012). (End Game)
RANDALL CHRISTOPHER is an award-winning filmmaker and artist best known for his cartoon project Kleeman and Mike and the experimental YouTube animation series "Skate Sketch." His newest film, The Driver Is Red, screened at DOC NYC in November 2017 and was hailed as "an artistic triumph" by The Independent. In addition to his animated film projects, Christopher has been a college professor of art in his hometown of San Diego since 2005. (The Driver is Red)