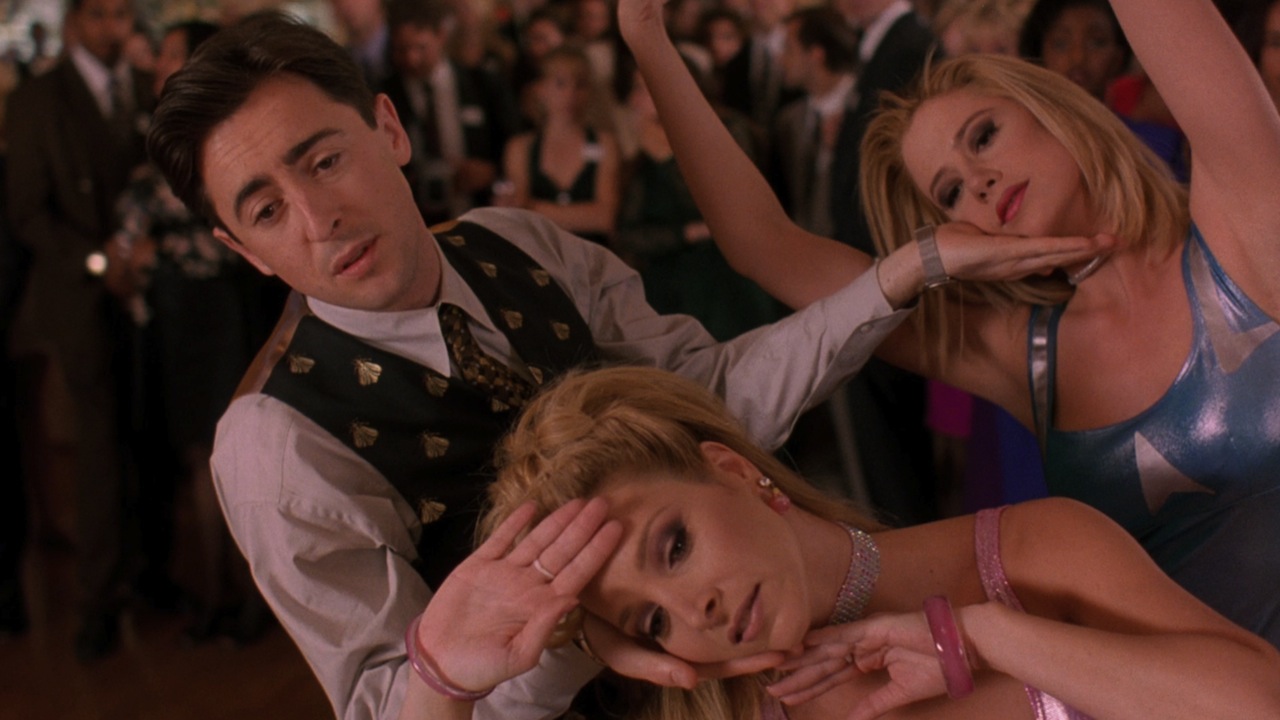 Romy and Michele's High School Reunion
Friday, July 28 - Sunday, July 30, 2017
35mm print!
Chosen by James, floor staff. 
"Romy (Mira Sorvino) and Michele (Lisa Kudrow) are the bimbo Bill and Ted, two lovable dimwits gliding hilariously backward in time. They travel only 10 years and just do it in their daydreams, but that's still enough to turn the candy-colored ROMY AND MICHELE'S HIGH SCHOOL REUNION into cheerful, giddy fun. The film never lets its audience forget that it's possible to be as dopey as these sweetly bird-brained heroines without also being pretty smart.
"As directed with verve by David Mirkin, tarted up by the costume designer of Clueless (Mona May) and played to shrewd perfection by its leggy stars, this farce has its half-serious undertones, too. When they decide to go home and face their high school classmates, Romy and Michele have to confront their self-doubts. As a consequence of this crisis, they wind up as improved and empowered as anyone wearing a pink, fluff-trimmed mini-dress and platform wedgies can be. Their final mantra — 'Let's fold scarves!' — can be seen as a cry of affirmation and an inspiring fulfillment of their retail destiny.
"First seen watching Pretty Woman on television ('I just get really happy when they finally let her shop,' sighs Michele), these two roommates live simply if not exactly modestly in Venice Beach. (What with lava on the streets of Los Angeles, it sure is open season on Southern California at the movies this week.) They share fond friendship, symmetrical good looks, and horrible high school memories from the days before they discovered hair dye. Back then, they were ostracized for many reasons, like the fact that they dressed as corseted Material Girl wannabes at their otherwise squeaky-clean senior prom.
"…When these two accidentally hear that their 10-year reunion is imminent, they decide it's time to turn their lives around. 'All we really need are, like, better jobs and boyfriends, right?' says Romy, who is the brains of the operation and works as a cashier at a Jaguar dealership. (Michele is hoping to find work in retail, which makes for funny job interview scenes.) So the two borrow a car and swap the hookerwear for little black dresses, which they hope will make them look serious. 'Do you have some sort of, uh, businesswoman's special?' they ask at a truck stop in the desert.
"…Ms. Kudrow and Ms. Sorvino make a fine team, elevating bubble-headedness to new levels of comic ingenuity. Though the film frays their friendship by having them argue about which one is the bigger success, "cuteness-wise," that's easy to settle. They both win." –The New York Times
Screening as part of Weekend Classics: Staff Picks
Country USA
Year 1997
Running Time 91 minutes
Director David Mirkin