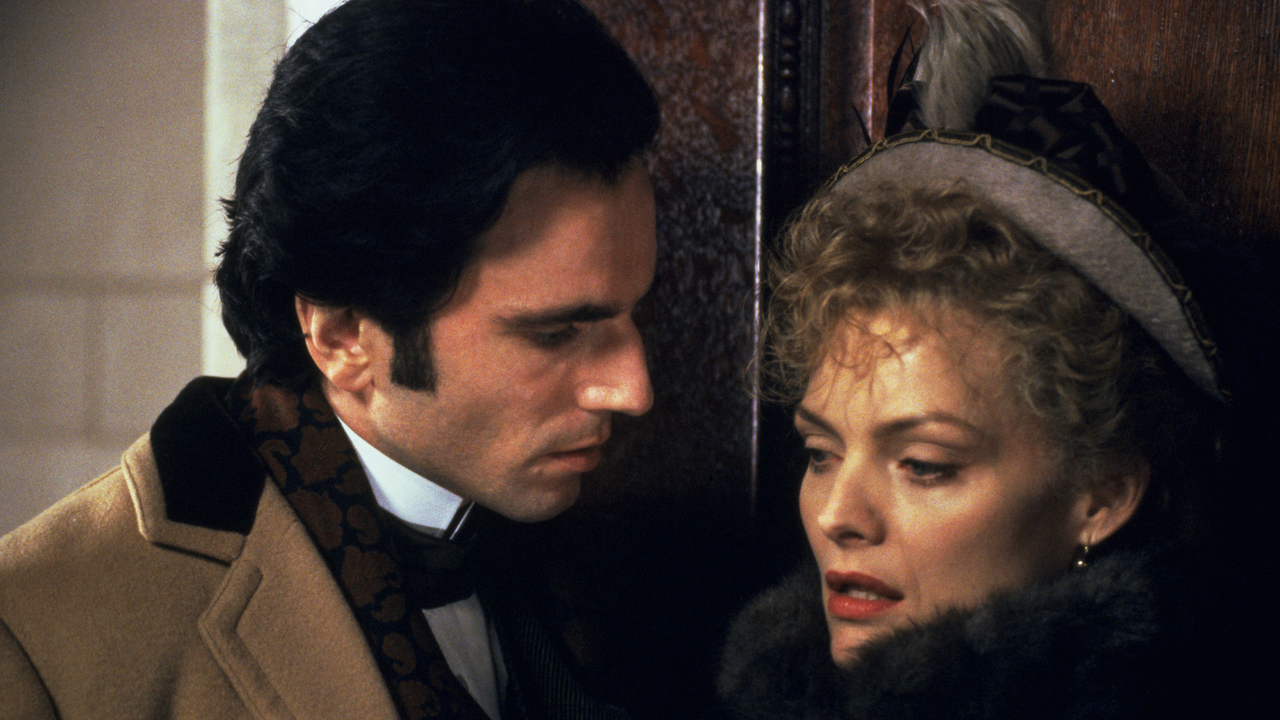 The Age of Innocence
Friday, August 10 - Thursday, August 16, 2012
25th Anniversary Revival Run! 4K Restoration!
THE AGE OF INNOCENCE (1993), Martin Scorsese's acclaimed adaptation of Edith Wharton's classic American novel, will have an exclusive 25th anniversary engagement Friday, August 10-Thursday, August 16 at IFC Center. Showing in a gorgeous 4K digital restoration created from scans of the original negative, with the audio remastered to filmmaker-approved 5.1, the director's reimagining of Wharton's tale of an unexpected passion among the upper crust of Gilded Age New York society has never looked or sounded better.
In the upper echelons of 1870s New York, high-minded young lawyer Newland Archer (Daniel Day-Lewis) is being groomed to wed the impeccably suitable May Welland (Winona Ryder, nominated for a Best Supporting Actress Oscar for the role). But then her cousin Ellen (Michelle Pfeiffer) returns to town abruptly, having fled a "dissolute" European husband and trailing scandal in her wake. Dispatched to persuade Ellen to give up her intention to divorce, Archer finds himself falling deeply in love with her instead, throwing everything he's ever known into jeopardy.
The first credited screenplay collaboration between Scorsese and Jay Cocks (Gangs of New York, Silence), THE AGE OF INNOCENCE was shot by the late Michael Ballhaus (also DP on Scorsese's Goodfellas, Gangs of New York, The Departed and more, not to mention numerous films of Rainer Werner Fassbinder and many, many others) and was cut by Scorsese's longtime editor, Oscar-winner Thelma Schoonmaker. The cast also includes such notable actors as Geraldine Chaplin, Richard E. Grant, Robert Sean Leonard, Miriam Margolyes and Jonathan Pryce. The film features a score by Elmer Bernstein.
"A gorgeously uncharacteristic Scorsese film… It's a robust gamble that pays off." – Vincent Canby, New York Times
"The most underrated and underseen of Scorsese's major works." – Ignatiy Vishnevetsky, The A.V. Club
"The depth to which we know these characters adds a spin and a brilliance to scenes in which the visually striking combines with the subtly, intensely dramatic. Scenes of exquisite tension are played out against a background of lavish magnificence; extravagant dinners and dances take place in wonderfully—and accurately—overdecorated rooms." – Francine Prose, New York Times
Year 1993
Running Time 139 minutes
Director Martin Scorsese
Writer Edith Wharton (novel), Jay Cocks (screenplay), Martin Scorsese (screenplay)
Editor Thelma Schoonmaker
Cinematographer Michael Ballhaus
Cast Daniel Day-Lewis, Michelle Pfeiffer, Winona Ryder