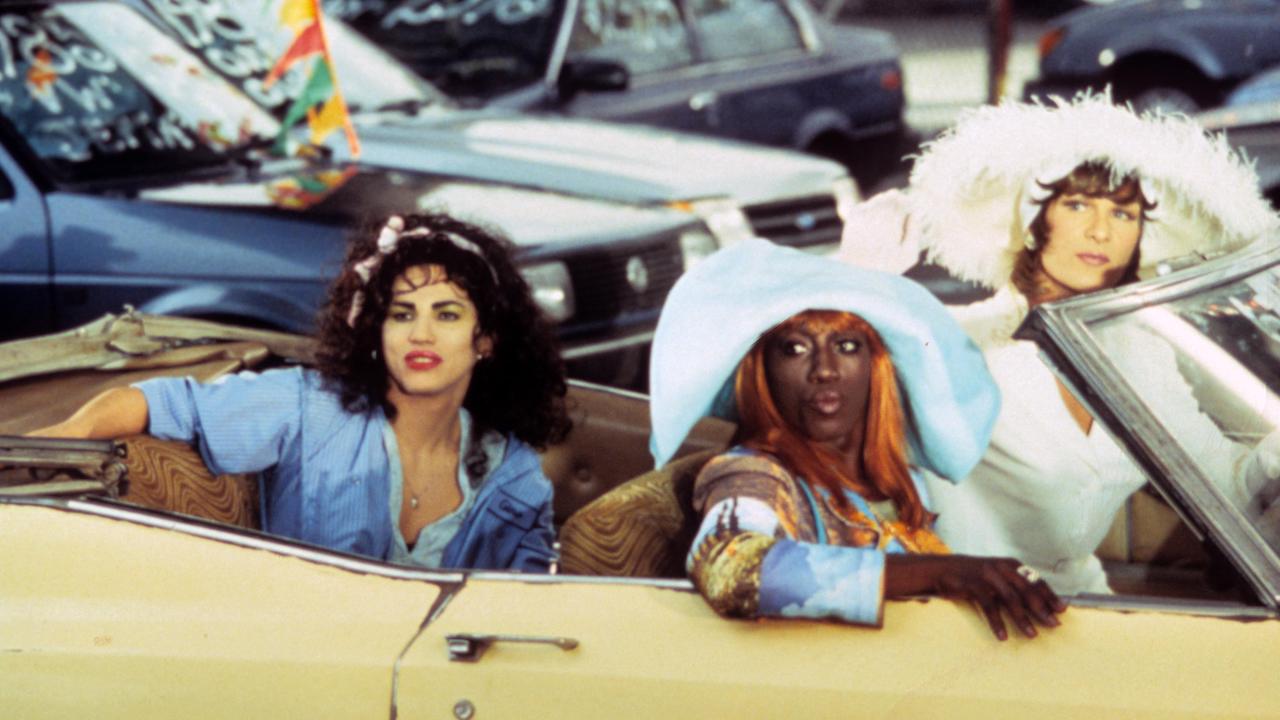 To Wong Foo, Thanks for Everything! Julie Newmar
Monday, April 8, 2019
MONDAY, APRIL 8, 8:00PM
Untitled Queen presents TO WONG FOO, THANKS FOR EVERYTHING! JULIE NEWMAR (Beeban Kidron, 1995)

New York City drag divas Noxeema, Vida, and Chi Chi (played by Wesley Snipes, Patrick Swayze, and John Leguizamo) take a road trip to the Miss Drag Queen of America Pageant in Hollywood—but hit a few major speed bumps along the way. This star studded hit comedy includes cameos by RuPaul, Lady Bunny, Flotilla DeBarge and, of course, Julie Newmar. As a child, TO WONG FOO made a big impression on Brooklyn drag artist Untitled Queen, who writes, "It made me laugh, it made me curious, confused, and enthralled. Back when I started performing, I also began a deep friendship with two other queens, and have thought so much about the parallels to this film."
Untitled Queen on TO WONG FOO, THANKS FOR EVERTHING! JULIE NEWMAR:
"When asked what queer movie to present that had a significant impact on me, there was no hesitation that it had to be TO WONG FOO. This was the the type of movie, there probably is a word for it, where as a young GLBTQ person that isn't out, and doesn't realize it yet, but senses it in the air: in media and books and in people, that you go out looking for your beacons. It made me laugh, it made me curious, confused, and enthralled. Like most things that deeply affect you, they continue to change and unfold in different ways in your life as you age. When I watched this film, I didn't have a particular desire to be doing anything they were doing necessarily, and its such an ironic twist that after loving this film for so many years, that I would then join this community and creative outlet of drag in New York in my late 20s. I would then also start a deep friendship with two other close queens when I started, and have thought much about the parallels of this relationship to the one in the film, as well as the lessons we pretend to know and teach each other. The queens that I grew up with did not have role models or drag moms or families. We learned from trying and looking at a smattering of small film references and written culture, and then ultimately experimenting and growing through friendship. "
Screening as part of the Winter 2019 season of Queer|Art|Film.
Country USA
Year 1995
Running Time 109 minutes
Distributor Universal
Director Beeban Kidron
Writer Douglas Carter Beane
Editor Andrew Mondshein
Cinematographer Steve Mason
Cast Patrick Swayze, John Leguizamo, Wesley Snipes, Stockard Channing, Blythe Danner, Arliss Howard, Jason London, Chris Penn, Julie Newmar