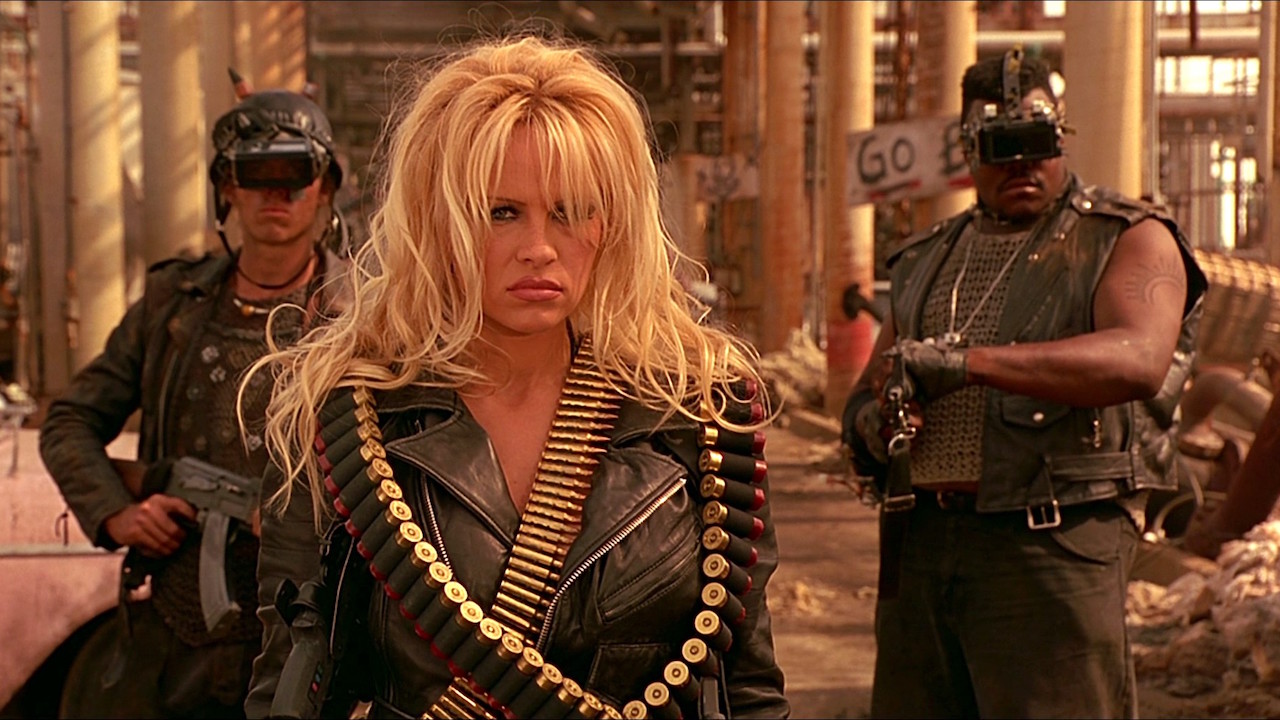 Barb Wire
Friday, December 15 - Saturday, December 16, 2017
"Though many are called to the throne of movie sex goddess, few are chosen. Actresses have played the vamp onscreen since the silent days of Theda Bara and the "It" girl, Clara Bow. Now, with her feature film debut as the star of "Barb Wire," "Baywatch" beach bunny Pamela Anderson Lee elevates herself from the lower echelon of mere international super-babedom to the loftier realm of pulp myth. She is "It" with an exclamation mark….
It's late in the 21th century and the world is engulfed in a civil war. But you'll have time to catch up on that later. From the very first frame, Lee is spilling out into our laps. Beginning with a trashy bump-and-grind number that leaves nothing to the imagination (and which instantly raises the ante on Demi Moore's upcoming performance in "Striptease"), Barb gyrates in a black wet suit, plunging, twisting, dramatically exposing parts of her anatomy while a fire hose pummels her with water.
As goddess material, Lee's Barb Wire couldn't be more perfect if Camille Paglia had dreamed her up. Barb is a warrior, a futuristic biker Diana who's traded in her bow for a grenade launcher. Everything about her is idealized, exaggerated. Perched on her Triumph, she's cinched up in uniforms that look like play clothes for a weekend with de Sade.
Barb Wire is a symbol of undiluted feminine power and abundance. And yet she's not about sex. Though she uses her body to bait and distract men, she never gives it up. As the proprietor of the Hammerhead Bar and Grill, the hard-core disco that serves as a headquarters for black market activity in the town of Steel Harbor, Barb isn't just another heavy-metal slut on a muscle bike. She's Rick in "Casablanca" and Marlene Dietrich in "Blue Angel" combined. She's her own comic book superhero, in control of her own body, her own heart, her own superhero destiny. Look, but don't touch. And, above all, don't call her BABE! "Barb Wire's" slam-bang cutting, slashing camera work and industrial-strength rock soundtrack hammer away at you throughout the movie. And after a while, you begin to think that assaulting and seducing your senses is all the filmmakers are interested in….
The movie carries its cyberpunk variation right through to the end, and usually with enough wit and craziness to freshen the mix. Then, there is Pamela, whose tight, disciplined performance deserves more respect than it will almost certainly get." – Washington Post
Part of the Waverly Midnights series "The Future Is Female"
Year 1996
Running Time 109 minutes
Director David Hogan