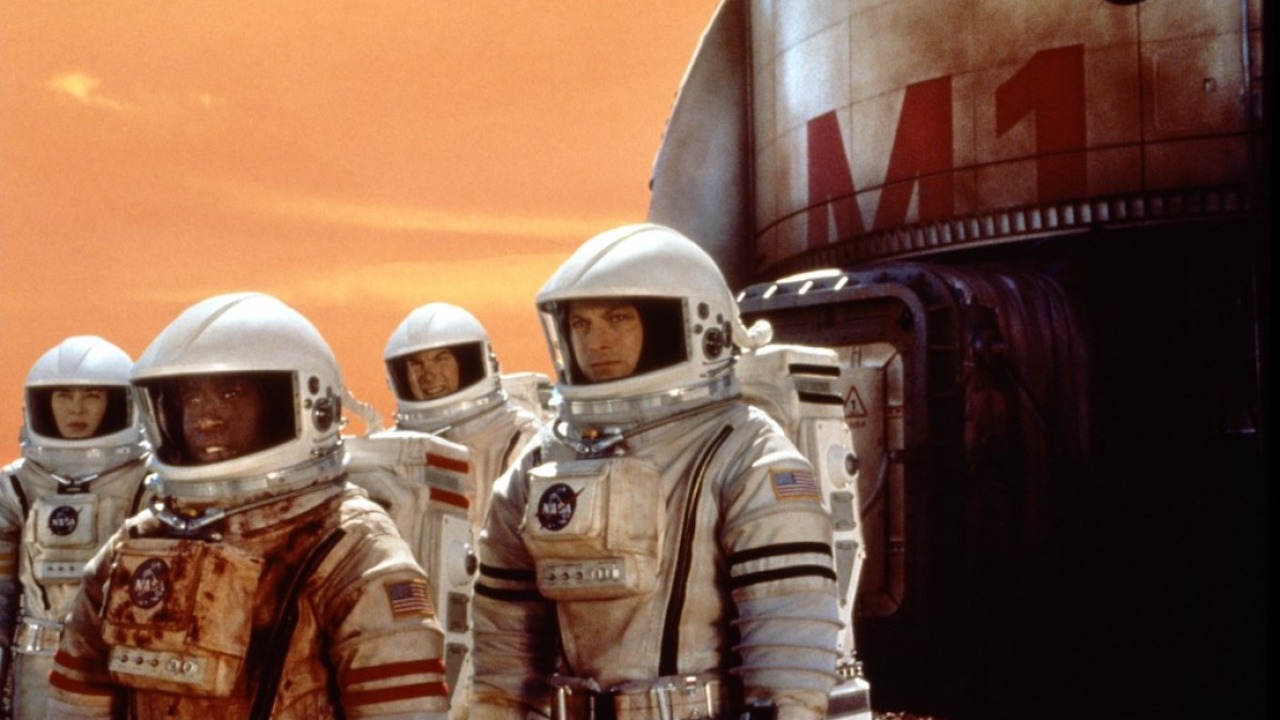 Mission to Mars
Friday, March 13 - Saturday, March 14, 2020
Attention MISSION TO MARS patrons: Unfortunately, the print that we received from the studio was delayed in transit and only arrived today. Upon inspection, we discovered that it was unuseable, and there was no replacement copy available. Consequently, we will not be screening the film this weekend. We apologize for the inconvenience.
35mm Print!
"Set in the year 2020, the first manned spaceship on Mars (imaginatively named the Mars I) is commanded by a team of four astronauts headed by Luke Graham (Don Cheadle). After reporting back to the International Space Station, they hear a strange sound on their communications system, interference coming from a nearby mountain. While the astronauts scan the formation with radar, a gigantic whirling snake-like vortex of sand and rocks rises up and attacks. After the vortex subsides, a large humanoid face is exposed in the adjacent mountain. The sole survivor, Graham, is able to send a message, so the ISS prepares another ship (imaginatively named the Mars II) and a rescue team consisting of Woody Blake (Tim Robbins), Jim McConnell (Gary Sinise), Terri Fisher (Connie Nielsen) and Phil Ohlmyer (Jerry O'Connell).


"As the Mars II enters the orbit of the red planet, a shower of micro-meteoroids breaches the hull. During repairs, the external fuel tanks are overlooked and explode. Luckily, there's a resupply module already in orbit around Mars and the crew head for that. Unluckily, Woody fails to land on the module properly and floats off into space. Terri tries to rescue him but, knowing she would run out of fuel before reaching him, Woody removes his helmet, killing himself to save her. When the survivors finally get to Mars they find Luke living in a greenhouse, and he reveals that the radio interference actually represents a map of human DNA, but with a couple of chromosomes missing.

"To complete the sequence, the crew send out a robotic rover to transmit the completed signal near the mountain. After the transmission a tall, narrow door appears in the side of the mountain and Jim, Terri and Luke walk in, while Phil stays with the emergency return vehicle ready to launch at the agreed time, with or without them. The door closes behind the trio, cutting off any communication to Phil, and a holographic projection pop ups depicting the planet Mars, covered with water, being struck by a large asteroid. A holographic Martian then reveals that the natives of Mars were evacuated in spaceships, one of which landed on Earth to create humans, who could one day return to Mars and be recognised as descendants. An invitation is offered for one of the astronaut to follow the Martians to their new home. Jim accepts the invite, jumps into an oxygenated capsule and blasts off to who-knows-where, while the others return safely to Earth." – HorrorNews.net
Screening as part of our Winter 2020 series, "Waverly Midnights: Hindsight is 2020s."
Country USA
Rating PG
Year 2000
Running Time 114 minutes
Director Brian De Palma
Accessibility Assistive Listening, T-Coil