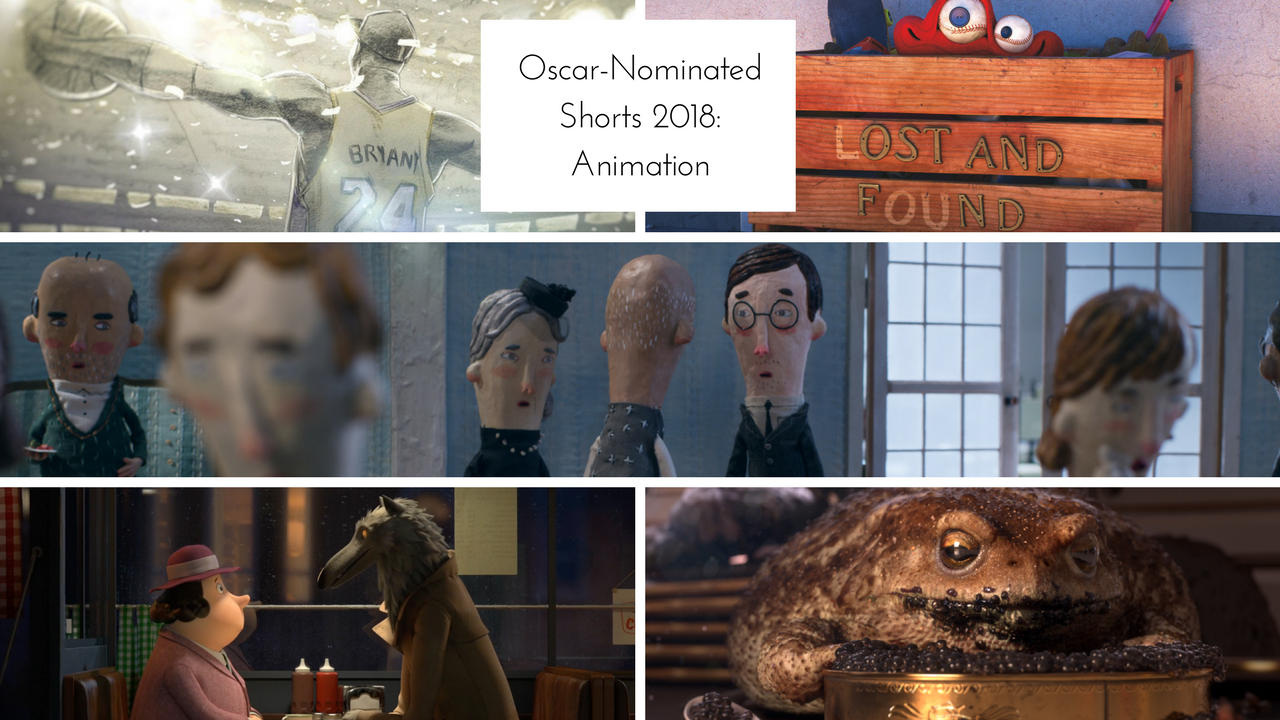 Oscar-Nominated Shorts 2018: Animation
Wednesday, February 7 - Thursday, April 5, 2018
ANIMATED SHORTS
Estimated Run-Time: 83 min.
Dear Basketball – Glen Keane and Kobe Bryant, USA, 5 min.
Negative Space – Max Porter and Ru Kuwahata, France, 5 min.
Lou – Dave Mullins and Dana Murray, USA, 7 minutes
Revolting Rhymes – Jakob Schuh and Jan Lachauer, UK, 29 minutes
Garden Party – Victor Caire and Gabriel Grapperon, France 7 minutes
Lost Property Office (additional film) – Daniel Agdag, Australia, 10 minutes
Weeds (additional film) – Kevin Hudson, USA, 3 minutes
Achoo (additional film) – Elise Carret, Camille Lacroix, Charlotte Perroux, Lucas Boutrot, Maoris Creantor, Pierre Hubert, France, 7 minutes
Rating guidelines for each program:
Animation – PG. Most of the shorts would be G rated, but the very end of GARDEN PARTY has some disturbing imagery of a human corpse that could be upsetting to younger viewers. Kids eight and over should be fine.
Dear Basketball (director: Glen Keane)
Synopsis: Basketball great Kobe Bryant collaborated with visionary animator Glen Keane and legendary composer John Williams on an animated short film that explores what it means to achieve your dream, and then leave it behind. The animated film is an adaptation of Bryant's NBA retirement announcement after 20 years with the Los Angeles Lakers. Narrated by Bryant, the film's hand-drawn animation and emotional score will touch fans of all ages with its universal message about love and loss.
Director's Biography: A 38 year veteran of Walt Disney Feature Animation, Glen Keane trained under Walt Disney's 9 Old Men. Glen Keane went on to create many beloved Disney characters, such as The Little Mermaid, Aladdin, The Beast, Tarzan, and Rapunzel. In 2012, Keane departed Disney to begin Glen Keane Productions as way to further his artistic explorations in animation, design and film.
Negative Space (directors: Max Porter, Ru Kuwahata)
Synopsis: My dad taught me how to pack.
Directors' Biography: Max Porter and Ru Kuwahata are a filmmaking duo based in Baltimore, USA. Collaborating for over a decade as "Tiny Inventions", they have directed short films, TV commercials, music videos and comics. Produced by Ikki Films and Manuel Cam Studio in France, "NEGATIVE SPACE" is their fourth professional film.
Lou (director: Dave Mullins)
Synopsis: When a toy stealing bully ruins recess for a playground full of kids, only one thing stands in his way: the "Lost and Found" box.
Director's Biography: Dave Mullins joined Pixar Animation Studios in September 2000. His first project was working as a pre-production animator on the Academy Award®-winning film, "FINDING NEMO." From there he went on to animate on a number of Pixar feature films including "MONSTERS INC.," "THE INCREDIBLES" and "RATATOUILLE." Mullins was an animator on the Golden Globe®-winner, "CARS" and the short film "One Man Band" and worked as directing animator on another Academy Award®-winner, "UP." Mullins then was tasked as a supervising animator on, "CARS 2," and additionally contributed his animation skills to "BRAVE," "INSIDE OUT" and "THE GOOD DINOSAUR." Most recently, Mullins made his directorial debut on Pixar's new short, "LOU," which opened in front of "CARS 3" in Summer 2017. A life-long lover of movies, cartoons and drawing, Mullins was determined to land a job as an artist. While studying painting in art school, he found a RISC 6000 computer in the computer lab storage closet and taught himself how to use it. After creating his first animation of a walking coat hanger he was hooked. He graduated Rhode Island School of Design with a Bachelor's of Fine Art in Illustration and was able to secure his first job in the movies creating animated concession stand ads for theatres. Prior to coming to Pixar, Mullins early resume includes such production companies as Pike Productions, The Post Group, Acclaim Entertainment, Walt Disney Animation Studios, Dream Quest Images, Digital Domain and Sony Pictures Imageworks.
Revolting Rhymes (directors: Jakob Schuh, Jan Lachauer)
Synopsis: REVOLTING RHYMES interweaves Dahl's retellings of classic fairy tales with playful twists and surprising endings. The all-star voice cast comprises of Dominic West, David Walliams, Rob Brydon, Tamsin Greig, Bertie Carvel, Rose Leslie, Bel Powley, Gemma Chan and Isaac Hempstead Wright. Based on the book written by Roald Dahl and illustrated by Quentin Blake, REVOLTING RHYMES was directed by Oscar nominees Jakob Schuh ("THE GRUFFALO") and Jan Lachauer ("ROOM ON THE BROOM"), co-directed by Bin-Han To and produced by Magic Light Pictures' Martin Pope and Michael Rose ("THE GRUFFALO," "ROOM ON THE BROOM," "CHICO" and "RITA"). The animation was created at Magic Light's Berlin studio and at Triggerfish Animation Studios in Cape Town.
Directors' Biography: Jakob Schuh was born in Munich in 1976 and after his school graduation in 1995 he first studied in the department of dramaturgy at the LMU in Munich. From 1996 to 2003, Jakob Schuh was a student in the department of direction animation at the Film Academy Baden-Württemberg, where he has been teaching since 2004. In 2003, Jakob was one of the founding partners of German animation house Studio Soi. Jakob Schuh has been involved as a director and designer in many award-winning animation film productions since 1995, and has worked as a caricaturist and illustrator for a.o. the Süddeutsche Zeitung. In 2009 Jakob was co-director of THE GRUFFALO which was nominated for an Oscar in the Best Animated Short Film category 2011, a BAFTA in 2010 and the prestigious Cartoon d'Or in 2011. It's won various awards including the Cristal for Best Television Special at Annecy Animation Festival 2010. Jan Lachauer was born in Munich in 1983. Between 2006 and 2011 he studied at the Filmakademie Baden-Württemberg in Ludwigsburg and the Gobelins, lécole de l'image in Paris. He made his professional directorial debut as co-director of ROOM ON THE BROOM in 2012. The film was Academy Award nominated in 2014; winner of the Animation category at the 2013 BAFTA Children's Awards; the 2012 RTS Programme Award for Best Children's Programme; the International Emmy Kids Awards 2013 and the Cristal for Best Television Production at Annecy Animation Festival 2013. Jan Lachauer lives and works in Berlin.
Garden Party (directors: Victor Caire, Gabriel Grapperon)
Synopsis: In a deserted rich house, a couple of amphibians explore their surroundings and follow their primal instincts.