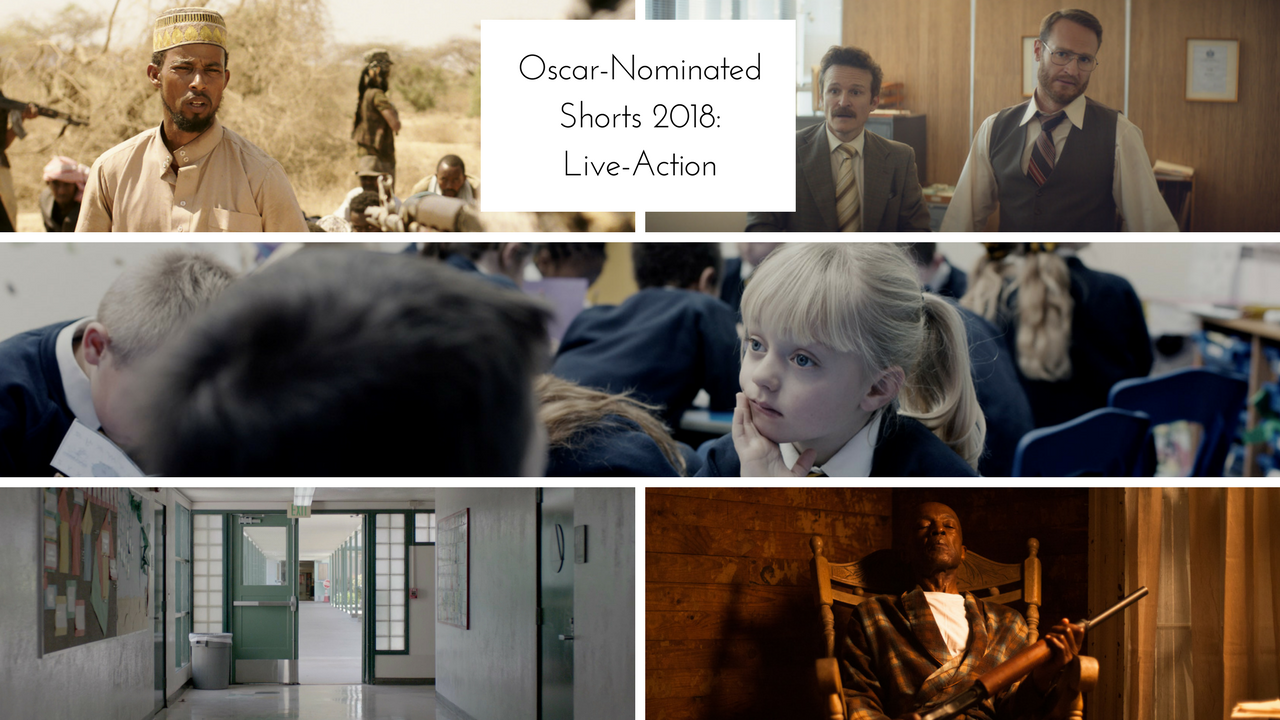 Oscar-Nominated Shorts 2018: Live-Action
Wednesday, February 7 - Thursday, April 5, 2018
LIVE-ACTION SHORTS
Estimated Run-Time: 99 min.

DeKalb Elementary – Reed Van Dyk, USA, 20 min.
The Silent Child – Chris Overton and Rachel Shenton, UK, 20 min.
My Nephew Emmett – Kevin Wilson, Jr., USA, 20 min.
The Eleven O'Clock – Derin Seale and Josh Lawson, Australia, 13 min.
Watu Wote/All of Us – Katja Benrath and Tobias Rosen, Germany, 22 min.
Rating guidelines for each program:
Live Action – R (violence and some language)
DeKalb Elementary (director: Reed Van Dyk)
Synopsis: Inspired by a 911 call placed during a school shooting incident in Atlanta, Georgia.
Director's Biography: Reed Van Dyk is a Los Angeles based writer/director. His most recent film DEKALB ELEMENTARY won the Grand Jury Prize at the 2017 Clermont Ferrand International Short Film Festival and a Special Jury Award in Acting at the 2017 SXSW Film Festival. The film will play at festivals in Nashville, Quebec, Portugal, Spain, Israel, Lebanon, and Ukraine in the coming months. Reed's first short film THE CONSERVATORY won a 1st Place Student Emmy Award ("Best Comedy") — and his last film AMATEURCOUPLE premiered in front of Sundance hit OBVIOUS CHILD at the Melbourne International Film Festival. Reed has a B.A. in Theater Arts from Cornell University and an M.F.A. in Film Directing from UCLA.
The Silent Child (director: Chris Overton)
Synopsis: THE SILENT CHILD centres around a profoundly deaf four year old girl named Libby who is born into a middle class family and lives in a world of silence until a caring social worker teaches her the gift of communication.
Director's Biography: Born In Staffordshire, Chris began his career as an actor. He worked on various television and film projects with some of the world's best directors such as Joel Schumacher, Oscar winning director Roman Polanski and was part of the main cast of Bafta award winning film, PRIDE directed by Matthew Warchus. Although an actor Chris watched and learnt from the directors intently, even taking a notepad on set to jot down nuggets of information. Using the knowledge he learned, Chris founded the UK's leading showreel production company at the age of 20. Slick Showreels have been producing a wide range of work including showreels, music videos, pilots, short films and documentaries ever since. THE SILENT CHILD is Chris's first short film as an independent director and what would arguably be one of his most challenging gigs – With the lead actress being a profoundly deaf five year old girl who communicates only in British sign language. Not shying away from the challenge, he went beyond the requirements to ensure the young actress was comfortable, even taking sign language classes and visiting Maisie at her home in Swindon to build a relationship before the shoot.
My Nephew Emmett (director: Kevin Wilson, Jr.)
Synopsis: In 1955, a Mississippi preacher tries to protect his 14-year-old nephew, Emmett Till from two racist killers out for blood. Based on true events.
Director's Biography: Kevin Wilson, Jr. is a Student Academy Award Winning filmmaker and a 3rd Year MFA Candidate in New York University's Graduate Film Program. Wilson first emerged as a rising talent in 2009 when he directed multiple sold out performances of his debut play "The Emmett Till Story," a brutal depiction of the 1955 murder of Emmett Till. Since that time, he has directed number of award winning short films. Starring veteran actors, Jasmine Guy (A DIFFERENT WORLD) and The Late, L.B. Williams (JUICE), "MY NEPHEW EMMETT" is Wilson's Pre-Thesis film at NYU. He is currently in development for his debut feature film, which is scheduled to go into production in the summer of 2018.
The Eleven O'Clock (director: Derin Seale)
Synopsis: The delusional patient of a psychiatrist believes he is actually the psychiatrist. As they each attempt to treat each other the session gets out of control.
Director's Biography: Derin Seale is a Cannes, One Show and NY Festivals Gold winning director. He was raised in a family of cineastes and spent a lot of his formative years on set. He started directing action sequences in the Hollywood features 'COLD MOUNTAIN' and 'The 'TALENTED MR RIPLEY', putting him in great stead to create work of visually epic proportions. This was never more evident than in his short film that helped the nation of Qatar win the hosting of the 2022 Football World Cup. Based in Australia, Seale also works internationally, directing campaigns in the US and Europe. His recent performance-driven spot 'MISTAKES', for the New Zealand Transport Authority has been recognised worldwide, going viral with over 14 million views on YouTube. Seale's direction of the spot continues to be celebrated at advertising award shows globally, including gold for direction at Cannes Lions. Recently Seale directed the campaign 'STOP IT AT THE START', for the Australian Government, aimed at reducing violence against women in future generations. Hugely successful, the campaign has received extensive coverage by global TV, online and print publishers and top Australian influencers, reaching 15.5 million views online after just one week.
Watu Wote/All of Us (director: Katja Benrath)
Synopsis: For almost a decade Kenya has been targeted by terrorist attacks of the Al-Shabaab. An atmosphere of anxiety and mistrust between Muslims and Christians is growing. Until in December 2015, muslim bus passengers showed that solidarity can prevail.
Director's Biography: Influenced by theatre throughout her youth, Katja Benrath pursued that career in her early professional life. She became a theatre tailor and worked for Pina Bausch's dance company. Following, she completed her studies in Singing and Acting in Vienna, Austria where she also discovered filmmaking. Her first short films ("BABYDOLL", "NO ONE PUKES IN HEAVEN" & "TILDA") have been playing successfully on many international festivals. During her master studies at Hamburg Media School she directed "WHERE HAVE YOU BEEN" and "SECRECIES". WATU WOTE, her graduation project, is her first film based on a true story.
Screening as part of our Academy Award-Nominated Shorts 2018 series, showcasing the nominated films in animation, live-action, and documentary.