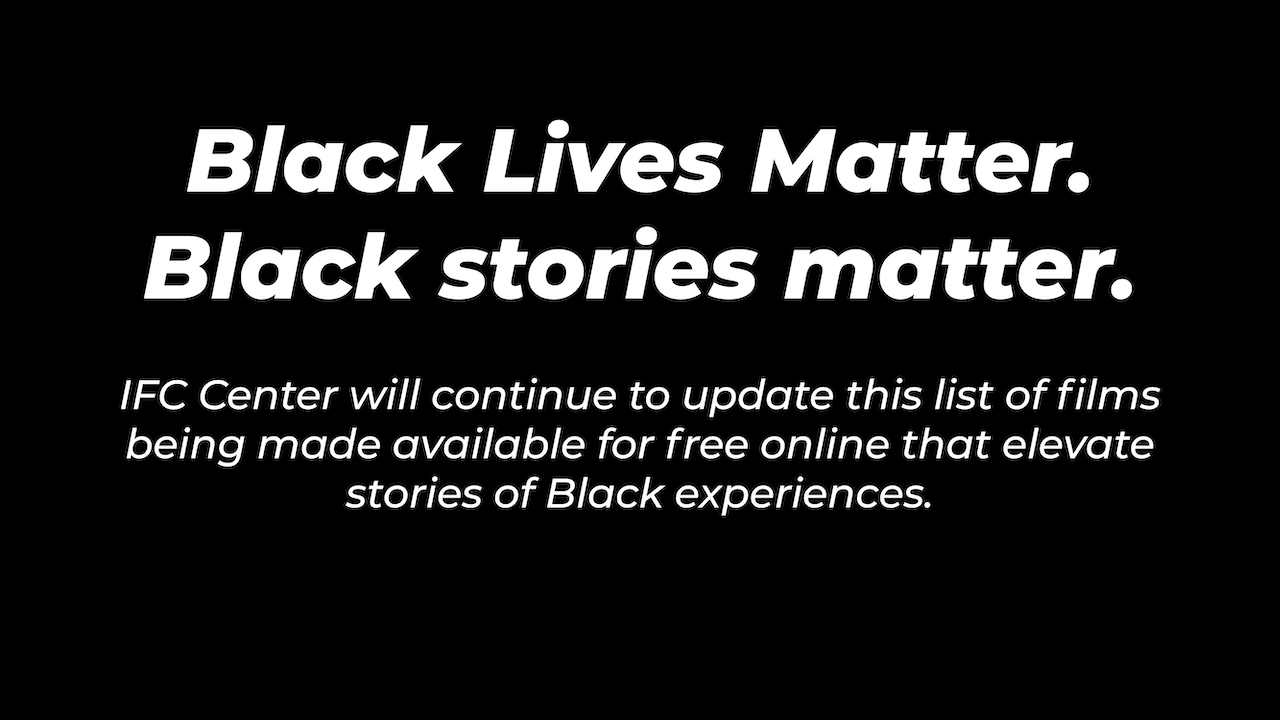 Films about the Black experience screening online for free
IFC Center remains committed to providing a platform for Black stories. Black Lives Matter.
We have compiled a list of films centering on Black experiences that have been made available to stream for free by various distributors, which we will continue to update.
Many thanks to everyone who has suggested additional films to add to this list.
Films no longer available to stream for free online that were previously included in this list:
16 SHOTS (2018, Rick Rowley)

AND WHEN I DIE, I WON'T STAY DEAD (2015, Billy Woodberry)

BLACK MOTHER (2018, Khalik Allah)

BLACK PANTHERS (1970, Agnes Varda)

THE BLACK PANTHERS: VANGUARD OF THE REVOLUTION (2015, Stanley Nelson)

THE BLACK POWER MIXTAPE, 1967-1975 (2011, Göran Olsson)

BODY AND SOUL (1925, Oscar Micheaux)

BOSS: THE BLACK EXPERIENCE IN BUSINESS (2019, Stanley Nelson)

CANE RIVER (1982, Horace Jenkins)

DAUGHTERS OF THE DUST (1991, Julie Dash)

DOWN IN THE DELTA (1998, Maya Angelou)

DRYLONGSO

 (1998, Cauleen Smith)

GURRUMUL (2017, Paul Damien Williams)

HANSWORTH SONGS (1986, John Akomfrah)

THE HATE U GIVE (2018, George Tillman Jr.)
HORROR NOIRE: A HISTORY OF BLACK HORROR (2019, Xavier Burgin)
A HUEY P. NEWTON STORY (2001, Spike Lee)
JUST MERCY (2019, Destin Daniel Cretton)

LET THE FIRE BURN (2013, Jason Osder)

LOSING GROUND (1982, Kathleen Collins)

MY BROTHER'S WEDDING (1983, Charles Burnett)

NATIONTIME-GARY (1972, William Greaves)

PORTRAIT OF JASON (1967, Shirley Clarke)

THE PRUITT-IGOE MYTH (2011, Chad Freidrichs)
RAT FILM (2016, Theo Anthony)

THE SCAR OF SHAME (1929, Frank Perugini)

SELMA (2014, Ava DuVernay)

SUZANNE, SUZANNE (1982, Camille Billops and James Hatch)

SYMBIOPSYCHOTAXIPLASM TAKE ONE (1968, William Greaves)

THE UNTOLD STORY OF EMMETT LOUIS TILL (2005, Keith Beauchamp)

THE WATERMELON WOMAN (1996, Cheryl Dunye)

A WELL SPENT LIFE (1971, Les Blank)

WINNIE (2017, Pascale Lamche)
Last updated: February 9, 2021