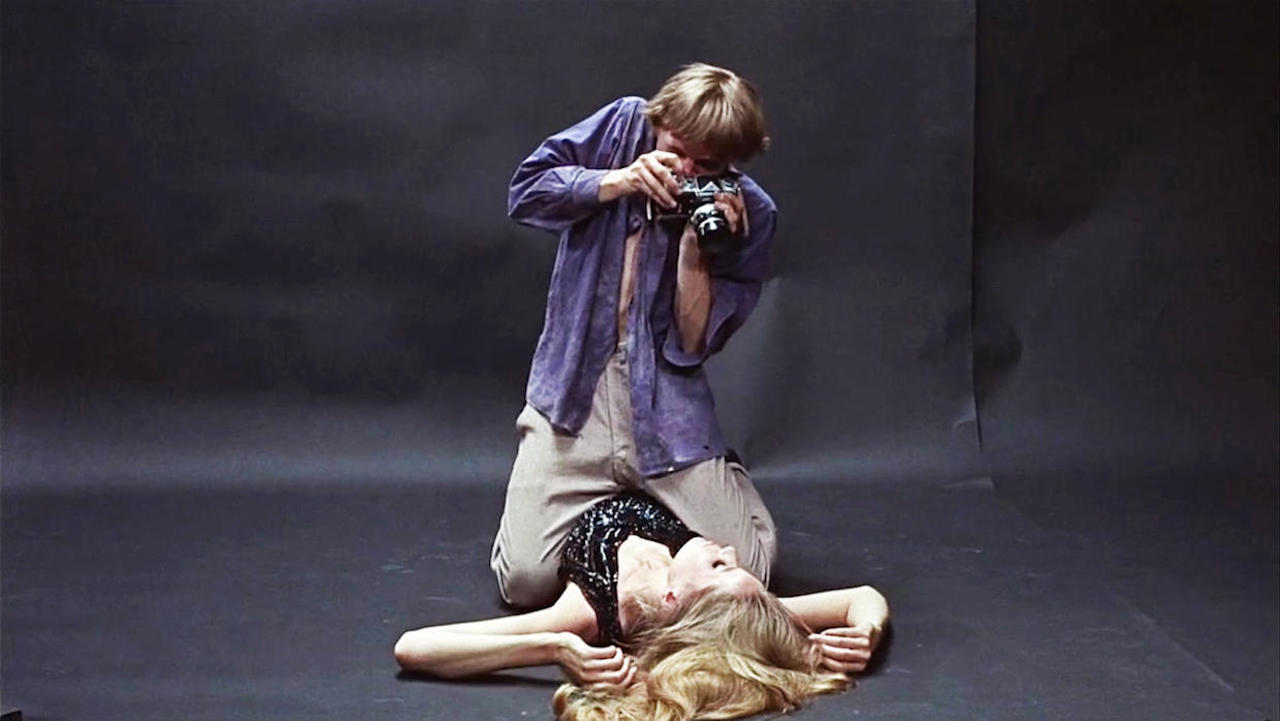 Blow-Up
Friday, March 2 - Sunday, March 4, 2018
DCP projection
"The movie stars David Hemmings, who became a 1960s icon after this performance as Thomas, a hot young photographer with a Beatles haircut, a Rolls convertible and "birds" hammering on his studio door for a chance to pose and put out for him. The depths of his spiritual hunger are suggested in three brief scenes involving a neighbor (Sarah Miles), who lives with a painter across the way. He looks at her as if she alone could heal his soul (and may have once done so), but she's not available. He spends his days in tightly scheduled photo shoots (the model Verushka plays herself, and there's a group shoot involving grotesque mod fashions), and his nights visiting flophouses to take pictures that might provide a nice contrast in his book of fashion photography.
Thomas wanders into a park and sees, at a distance, a man and a woman. Are they struggling? Playing? Flirting? He snaps a lot of photos. The woman (Vanessa Redgrave) runs after him. She desperately wants the film back. He refuses her. She tracks him to his studio, takes off her shirt, wants to seduce him and steal the film. He sends her away with the wrong roll. Then he blows up his photos, and in the film's brilliantly edited centerpiece, he discovers that he may have photographed a murder." — Roger Ebert
Screening as part of the Weekend Classics series Uneasy Riders: 60s Hollywood, part of Carnegie Hall's The '60s: The Years that Changed America festival.
Year 1966
Running Time 111 minutes
Director Michelangelo Antonioni
Writer Julio Cortazar (short story), Michelangelo Antonioni (screenplay), Tonino Guerra (screenplay)
Editor Frank Clarke
Cinematographer Carlo Di Palma
Cast Vanessa Redgrave, Jane Birkin, Sarah Miles, Peter Bowles, David Hemmings