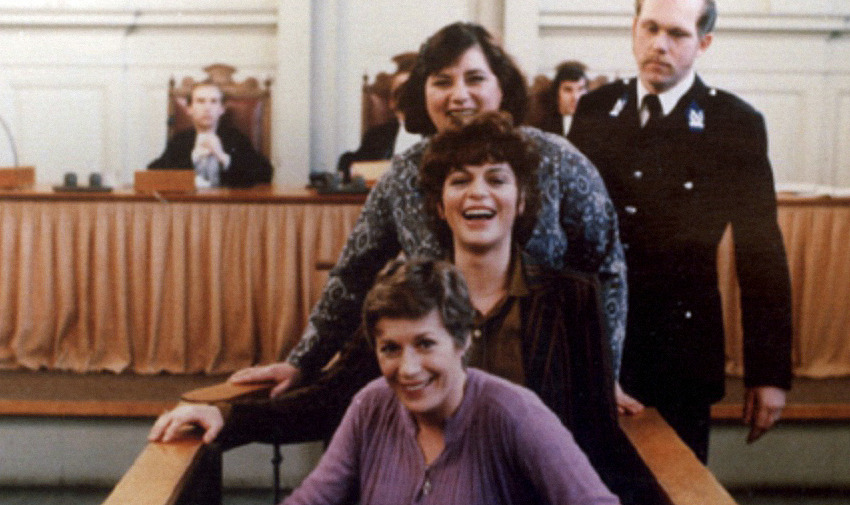 A Question of Silence
Monday, January 8, 2018
Split Britches presents A QUESTION OF SILENCE
Archival 35mm print!
Can murder ever be justified? That's the central question at the heart of this controversial 1981 feminist classic by Marleen Gorris (Antonia's Line). A QUESTION OF SILENCE follows a psychiatrist (Edda Barends) as she interviews three female strangers who mysteriously joined together to kill a male shop owner in a fit of spontaneous rage. The film is a favorite of legendary theater artists Peggy Shaw and Lois Weaver, together known as Split Britches (who will be at LaMama ETC with their new show Unexploded Ordnances (UXO) January 4th-22nd). Shaw and Weaver write, "A QUESTION OF SILENCE has had huge impact on our work in terms of finding a queer feminist solution to issues and problems. We always refer to it at some point in our process." Rarely screened in theaters, Gorris' film should provoke a fascinating conversation in the wake of the recent surge of the #MeToo movement.
Screening as part of Queer|Art|Film.
Country Netherlands
Year 1982
Running Time 92 minutes
Director Marleen Gorris
Writer Marleen Gorris
Editor Hans von Dongen
Cinematographer Frans Bromet
Cast Edda Barends, Nelly Frijda, Henriëtte Tol