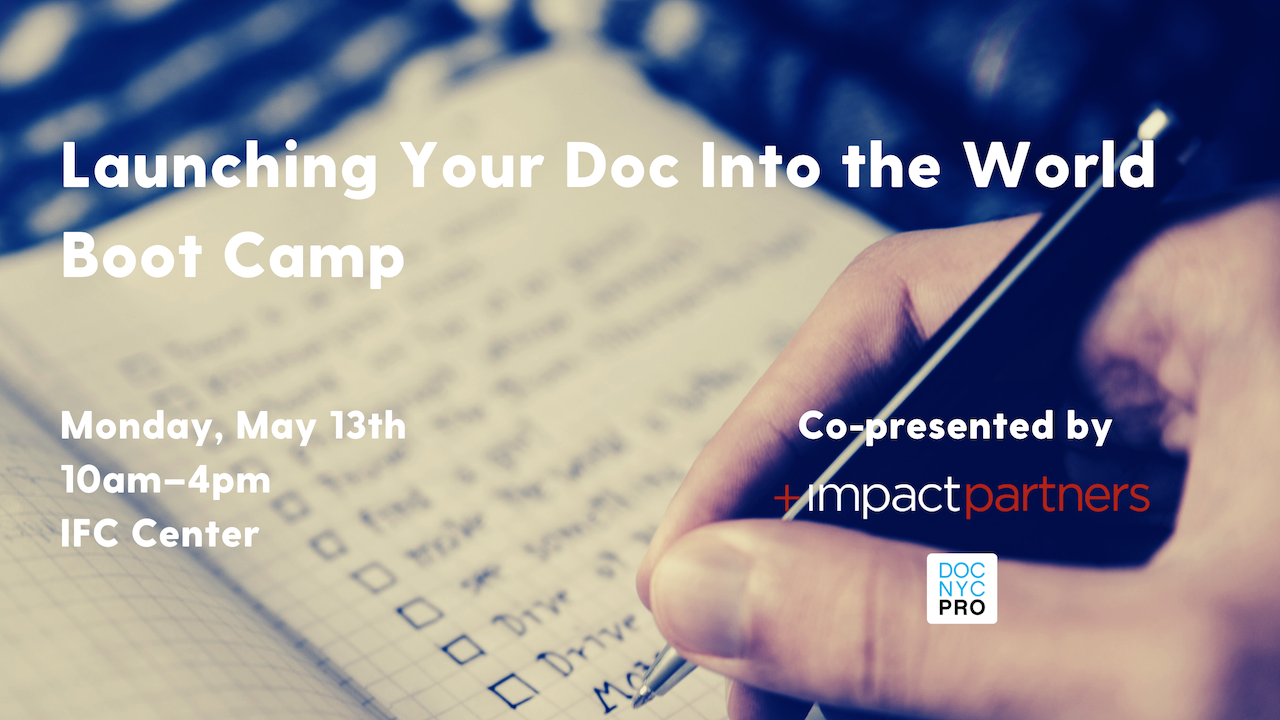 Launching Your Doc Into the World Boot Camp
Monday, May 13, 2019
After you've made your film, it's time to begin the important step of getting it seen. What does it take to get your film in front of audiences? From getting into festivals, to securing an agent, to making a deal, this daylong boot camp at the IFC Center, co-presented by Impact Partners, will cover it all! Ticket price also includes free coffee at IFC Center and a free drink at a post-workshop happy hour!
10AM – 11AM AGENT SECRETS
Do you really need an agent? At what stage should you seek one out? Does having an agent really give you a leg up on your competition? Agents and experts Graham Fine (The Film Sales Company) and Alexis Galfas (Cinetic Media), and Diana Holtzberg (East Village Entertainment) and others lay it out in this panel. Moderated by Greg Rhem (Writer/Director).
11AM – 12PM WHAT DO FESTIVALS WANT?
Why do some films seem to get in to all the festivals? How do you break through the noise? Hear from our panel of programmers including Megan Costello (Hamptons International Film Festival), Dominic Davis (Rooftop Films), Tom Hall (Montclair Film Festival), and Lucy Mukerjee (Tribeca Film Festival) about what they are on the lookout for. Moderated by Samara Chadwick (Camden International Film Festival).
12PM – 1PM BREAK
1PM – 2PM WHAT ARE DISTRIBUTORS LOOKING FOR?
There's tough competition out there for distribution. How do you get your film noticed and what will make you stand out in the crowd? Experts such as Jacqueline (Jackie) Glover (HBO), Justine Nagan (POV), Denae Peters (Picture Motion), and Michael Tuckman (mTuckman media) break it down for us and share the nuts and bolts regarding what they are looking for. Moderated by Patricia Finneran (Doc Society).
2PM – 3PM PUBLICITY AND MARKETING
Developing a solid strategy for creating an engaged community for your film is necessary to maximize your film's exposure. Hear from experts in publicity and social outreach Maya Anand (Cohen Media Group), Anna Barnes (Little Monsters Film), Sara Kiener (Cinereach), and George Nicholis (Magnolia Pictures) who provide the tools and show the way. Moderated by Kristin McCracken (Social Media Marketing Consultant).
3PM – 4PM CASE STUDIES
Jenny Raskin (Impact Partners) leads this discussion with filmmakers Jessica Devaney (Always In Season), Howard Gertler, (How to Survive a Plague) and Amanda Lipitz (Step), exploring the ups and downs and the lessons learned from the journey of launching their documentary film projects.
4PM – 5PM HAPPY HOUR
Now it's time to join fellow filmmakers for a free drink at a neighborhood bar, details TBA at the event!
Bios:
Maya Anand is the VP of Publicity at Cohen Media Group, where she has overseen the release and awards campaigns for several high-profile international titles such as the Academy Award-nominated films Faces Places and The Insult. Anand joined CMG after several years at Sony Pictures Classics, where she served in a variety of capacities, including National Director of Advertising and Publicity. At SPC, she contributed to the campaigns of several Academy Award-winning films including Blue Jasmine, Whiplash, Still Alice, and Son of Saul. Before joining SPC, Anand worked extensively in production on feature films with producer Robert Greenhut (Annie Hall, Dog Day Afternoon). She holds an MFA in Film Directing from Columbia University's School of the Arts and a BA in English from Harvard University.
Anna Barnes started her career in Boston working with legendary filmmaker Frederick Wiseman. Joining John Sloss' Cinetic Media in 2009, she helped launch the film distribution outfit Producers Distribution Agency, shepherding releases such as the Oscar-nominated Banksy documentary Exit Through the Gift Shop, and Asif Kapadia's Senna. In 2015, she began working with Ryan Werner in running Cinetic Marketing, where she worked on the release campaigns for many of the top documentary films of the last few years, including Chai Vasarhelyi and Jimmy Chin's Free Solo, Bryan Fogel's Icarus, Ezra Edelman's OJ: Made In America, Yance Ford's Strong Island, Matthew Heineman's Cartel Land, and Gianfranco Rosi's Fire at Sea. She recently joined filmmakers Chai Vasarhelyi and Jimmy Chin as their VP of Development and Production under their Little Monsters Film banner.
Samara Chadwick is the Senior Programmer for the Points North Institute and the Camden International Film Festival (CIFF), a much-loved documentary festival, bringing the best of creative non-fiction (features, shorts & immersive) from around the world to the rugged coast of Maine. She has programmed films and conferences for HotDocs, the Montreal International Documentary Festival (RIDM), and the Berlin Biennale (2012). She has also served on juries at The New Horizons Film Festival (Poland), Sunny Side of the Doc (France), and Sheffield Doc/Fest (UK). Also a filmmaker, Samara's first feature documentary, 1999, produced by Parabola Films (Canada), Beauvoir Films (Switzerland), and the National Film Board of Canada, premiered in 2018 at Visions du Reel, and has since played festivals worldwide including HotDocs, DokuFest Kosovo, BAFICI, as well as the Museum of the Moving Image.
Megan Costello is a Brooklyn-based film curator. As a Programmer and the Program Manager for the Hamptons International Film Festival, she programs short and feature films, oversees the annual Screenwriters Lab, and assists in the curation of HIFF's year-round programs. Megan has previously worked with the Tribeca Film Festival, Tribeca Film Institute, and the Rubin Museum of Art, and has served on the screening committees for the Nantucket Film Festival, Montclair Film Festival, and Rooftop Films.

Dominic Davis has a degree in mass media studies and political science from the University of Kentucky. In 2011, he took a job with the film office of the Sundance Film Festival, where he discovered film programming as a profession. He has previously programmed for the American Museum of Natural History and the Tribeca Film Festival. He has served on advisory panels and grant and film juries across the globe. When not watching movies, he goes for very long runs.
Jessica Devaney is a Brooklyn-based producer and the founder of Multitude Films. Her latest film, Always In Season, premiered in competition at the 2019 Sundance Film Festival and won the Special Jury Award for Moral Urgency. Jessica also produced The Feeling of Being Watched (Tribeca 2018), Roll Red Roll (Tribeca 2018), Love The Sinner (Tribeca 2017), and Critic's Choice-nominated Speed Sisters (Hot Docs 2015). She has been a Women at Sundance fellow and Sundance Creative Producing Lab advisor.
Graham Fine is Manager of Acquisitions at The Film Sales Company, where he focuses on discovering new projects, conceiving festival strategy, and otherwise aiding the sales team in closing deals. He also regularly represents The Film Sales Company on film festival juries and various regional and national producing labs. The Company is unrelenting in securing distribution for independently produced narrative and documentary features, with over 200 titles sold since 2002 to a diverse group of domestic and foreign buyers.
Patricia Finneran works with the Doc Society collaborative leadership team to create and expand partnerships that further the organization's mission to enable great documentary and advance the art of media impact. She has held senior positions at Sundance Institute Documentary Film Program, AFI as Director of SILVERDOCS, and IFP New York. She previously headed Story Matter Media, whose clients included Alliance for Media Arts & Culture, Hot Docs, Harmony Institute, and Kering. She led impact campaigns for feature docs Bully, How to Survive a Plague, The Revolutionary Optimists, and Shadow World.
As a senior executive at Cinetic Media, Alexis Galfas works with the Finance, Management, Domestic Sales and International Sales teams to identify and bring in filmmaker-driven projects that are creatively unique and commercially viable. Her responsibilities include establishing relationships with emerging filmmakers, building Cinetic's film festival slates, assessing potential financing opportunities, and tracking film festival, market, and industry trends. Recent films she has been involved with include RBG, Knock Down the House, Green Book, We the Animals, Science Fair, Amy, Strong Island, and Boyhood. Prior to joining Cinetic in 2013, Alexis worked at Maximum Films & Management, where she assisted in scouting literary properties for clients such as DreamWorks, Illumination Entertainment, and NBC TV.
Howard Gertler's credits include David France's How to Survive a Plague; in addition to an Oscar nomination, the film collected New York Film Critics' Circle, Peabody, IFP Gotham, IDA and GLAAD Media Awards. He's an IFP/Gotham and Film Independent Spirit Award winner, the latter for John Cameron Mitchell's Shortbus. With See-Saw Films, he produced Mitchell's adaptation of Neil Gaiman's How to Talk to Girls at Parties, released by A24. Upcoming projects include Rhys Ernst's Sundance '19 debut feature Adam, John Cameron Mitchell and Bryan Weller's musical podcast Anthem, and Nicole Newnham and Jim LeBrecht's documentary Crip Camp.
Jacqueline Glover is senior vice president, HBO Documentary Films, for Home Box Office, responsible for overseeing the development and production of documentary films. Most recently Glover oversaw the premiere of United Skates, executive produced by John Legend. Glover served as executive producer on Swiped: Hooking Up in the Digital Age, John McCain: For Whom the Bell Tolls, and King in the Wilderness, a portrait of Dr. Martin Luther King, Jr.'s final years. She served as senior producer for Becoming Warren Buffet and The Newspaperman: The Life and Times of Ben Bradlee. Glover also served as executive producer for the Emmy Award-winner Jim: The James Foley Story. Other recent projects include the Oscar-winning documentary short Crisis Hotline: Veterans Press 1; the Oscar-nominated short Redemption; the Emmy-nominated Gloria: In Her Own Words; the Peabody Award-winning If God Is Willing and Da Creek Don't Rise from Spike Lee; the Oscar-nominated films China's Unnatural Disaster: The Tears of Sichuan Province and The Witness: From the Balcony of Room 306; and the Emmy-winning Teddy: In His Own Words. Prior to working with HBO, Glover worked at The Entertainment Group in both development and production capacities, and held a variety of production jobs in television and broadcasting in New York. She holds a BFA from New York University Tisch School of the Arts.
Diana Holtzberg is a producer, agent, writer, consultant, and CEO of East Village Entertainment (EVE), which she founded in 2007. EVE is devoted to media that entertains, enlightens, and inspires, and specializes in worldwide, multi-territory and North American projects. EVE offers a range of services including creative input on shoots, edits, and written material; strategy during development, production, and on completed work, festivals, and distribution. Diana has won two Emmy Awards and a Canadian Screen Award, and has received two Emmy nominations and Producers Guild of America nominations. Her executive producer, producer, creative producer, and co-producer credits on feature docs include Nowhere to Hide; Recruiting for Jihad; Rumble: The Indians Who Rocked The World; Mr. Gaga; Requiem For the American Dream; The Art of Failure; Chuck Connelly Not For Sale; Oscar-shortlisted Genius Within: The Inner Life of Glenn Gould; Imaginary Witness: Hollywood and the Holocaust; Loving and Cheating; Still Doing It: The Intimate Lives of Women Over 65; and End of the Century: The Story of the Ramones. Diana participates on panels and conducts workshops at film markets and festivals throughout the world. She was VP of Development, Acquisitions, and Sales at Films Transit International from 2001-2016, a leading worldwide documentary film sales company with a catalogue of highly acclaimed documentaries. Diana has worked on over 300 films.
Sara Kiener oversees distribution strategies and audience development for Cinereach-supported films and productions. Most recently, she oversaw the theatrical and digital release of Matangi / MAYA / M.I.A. and has contributed to the campaigns for We The Animals, Beach Rats, I Am Not Your Negro and Wild Nights with Emily. Sara has been championing audience-based distribution strategies since 2010 when she co-founded Film Presence. There she implemented grassroots theatrical campaigns for films like CitizenFour, Obvious Child, The Hunting Ground and Twenty Feet from Stardom. Prior to launching Film Presence, Sara was Exhibitor Relations Manager at Magnolia Pictures.
Amanda Lipitz's directorial debut, Step, won the Special Jury Award for Inspirational Filmmaking at Sundance and the NAACP Image Award for Best Documentary. She's made short films for Student Leadership Network, Citymeals on Wheels, and 30+ more organizations. Broadway producing credits include Dirty Rotten Scoundrels, Legally Blonde the Musical, A View From the Bridge (Tony Award), The Humans (Tony Award). TV credits include Legally Blonde: The Search for Elle Woods (executive producer). Current projects include a feature documentary, a scripted podcast with Gimlet Media, and a movie musical. She holds a BFA from Tisch School of the Arts and now serves on the board of trustees at NYU. She currently lives in New York City with her husband and two daughters.
Kristin McCracken is a social media and content strategist who works with filmmakers, film festivals, and other organizations to build their profiles, community reach, and engagement through social and digital media. She provides editorial content across platforms, and has contributed filmmakers interviews to select outlets. Formerly VP of Digital Media at Tribeca, her current festival clients include Hamptons International Film Festival, Montclair Film Festival, Maui Film Festival, and Naples International Film Festival. www.mccrackhouse.com
Lucy Mukerjee is a Senior Programmer at the Tribeca Film Festival where she is dedicated to championing underrepresented voices. A queer bi-racial activist, she has been empowering storytellers for two decades as a fiction editor, film producer and curator. Previously, Lucy was the Director of Programming for Outfest, the leading LGBTQ+ media arts organization, where she oversaw the curation of their trio of film festivals for four years and founded the now annual Trans Summit event. Before that, she produced feature films for Lionsgate and Warner Bros. Over her career, Lucy has built a reputation as a connector and changemaker.
Justine Nagan is the Executive Director of American Documentary, Inc., and an Executive Producer on its two signature series, POV (PBS) and America Reframed (World Channel in partnership with WGBH). POV is the longest running independent documentary series on television. Prior to coming to AmDoc, Justine led Kartemquin Films (KTQ) as Executive Director for seven years, as well as being an Emmy Award-winning Executive Producer on KTQ films including Abacus, Life Itself and The Interrupters by Steve James, Minding the Gap by Bing Liu, and The Trials of Muhammad Ali by Bill Siegel. With Kartemquin, she also directed Typeface, an award-winning documentary on American typography and graphic design which aired on PBS and internationally on the Sundance Channel, and the doc short Sacred Transformations. Justine has a certificate in Non-Profit Management from Harvard Business School, and a Masters from the University of Chicago in the Humanities/Cinema and Media Studies. She is active in the media community and was one of the founding board members of Good Pitch Chicago. Justine lives in Brooklyn, NY with her husband Matt and two young sons.
Named one of Variety's Hollywood's New Leaders, George Nicholis started his publicity career at Picturehouse, where he worked on award-winning films such as Guillermo del Toro's Pan's Labyrinth, Robert Altman's A Prairie Home Companion, and Marion Cotillard's Oscar-winning breakout La Vie en Rose. Nicholis next moved to PMK|BNC, where in addition to attending the annual film festival circuit, he spent several years managing publicity campaigns for a diverse slate of films. He currently is the co-head of publicity for Magnolia Pictures, where he has overseen a variety of prominent releases including Oscar-nominated and box office documentary hits I Am Not Your Negro and RBG.
Denae Peters is the Director of Impact Distribution at Picture Motion, where she leads the operations and management of the non-theatrical distribution team. Most recently, she was a Campaign Director at Film Sprout, a grassroots distribution firm for social-issue documentaries, where she managed campaigns for titles including Knife Skills, For Ahkeem, and Whose Streets? Prior to this, she spent five years at the Toronto International Film Festival (TIFF) where she was the Manager of Guest/Filmmaker Relations and managed TIFF's hospitality industry sponsorships. She is a Board Member of the Brown Girls Doc Mafia (BGDM), a collective of women and non-binary people of color working in the documentary industry, and has served on selection committees for festivals including the Human Rights Watch Film Festival, DOC NYC, and the Tribeca Film Festival.
Jenny Raskin is Co-Executive Director at Impact Partners. SHe has worked as a documentary producer, director, series producer and executive producer. Her credits include Step (executive producer), Trophy (executive producer), Dina (executive producer), Our Nixon (executive producer), Here Come The Videofreex (director/producer), Motherland Afghanistan (producer), On Hostile Ground (director/producer), and many others. She received her B.A. from Barnard College and a master's degree from the Culture and Media Program at New York University.

Greg Rhem is a writer, producer, director, and creative consultant. He has written several feature-length screenplays; directed the short Advice From My Therapist; and produced the short documentary,My Best Kept Secret, showcased on The Oprah Winfrey Show, and the feature narrative, At the Jersey Shore. For twenty-four years, Greg was Director of Programming for HBO Documentary Films, where he helped discover award-winning programs like Freeheld, Prison Terminal: The Last Days of Private Jack Hall and Spellbound. He serves as a mentor, judge, and co-curator at many film festivals. Greg holds a M.A. in Media Studies and B.A. degree in English and Film Studies.
Michael Tuckman served as Vice President of Theatrical Sales for THINKFilm, handling Oscar winners and box office smashes including The Aristocrats, Before the Devil Knows You're Dead, Born Into Brothels, and Taxi to the Dark Side. He now operates mTuckman media, working directly with filmmakers under their own banners and with distributors as a theatrical booker. He has released Koganada's Columbus, Rory Kennedy's Academy Award-nominated Last Days in Vietnam, Shane Carruth's Upstream Color, and Detropia, from Oscar nominees Heidi Ewing and Rachel Grady. Other releases include Frederick Wiseman's last seven films and the Academy Award-nominee The Square. Tuckman is a member of the faculty at the Feirstein Graduate School of Cinema at Brooklyn College, where he teaches a course on distribution and exhibition.
IFC Center does not generally provide advisories about subject matter or potentially triggering content in films, as sensitivities vary from person to person. In addition to the synopses, trailers and other links on our website, further information about content and age-appropriateness for specific films can be found on Common Sense Media, IMDb and DoesTheDogDie.com as well as through general internet searches.