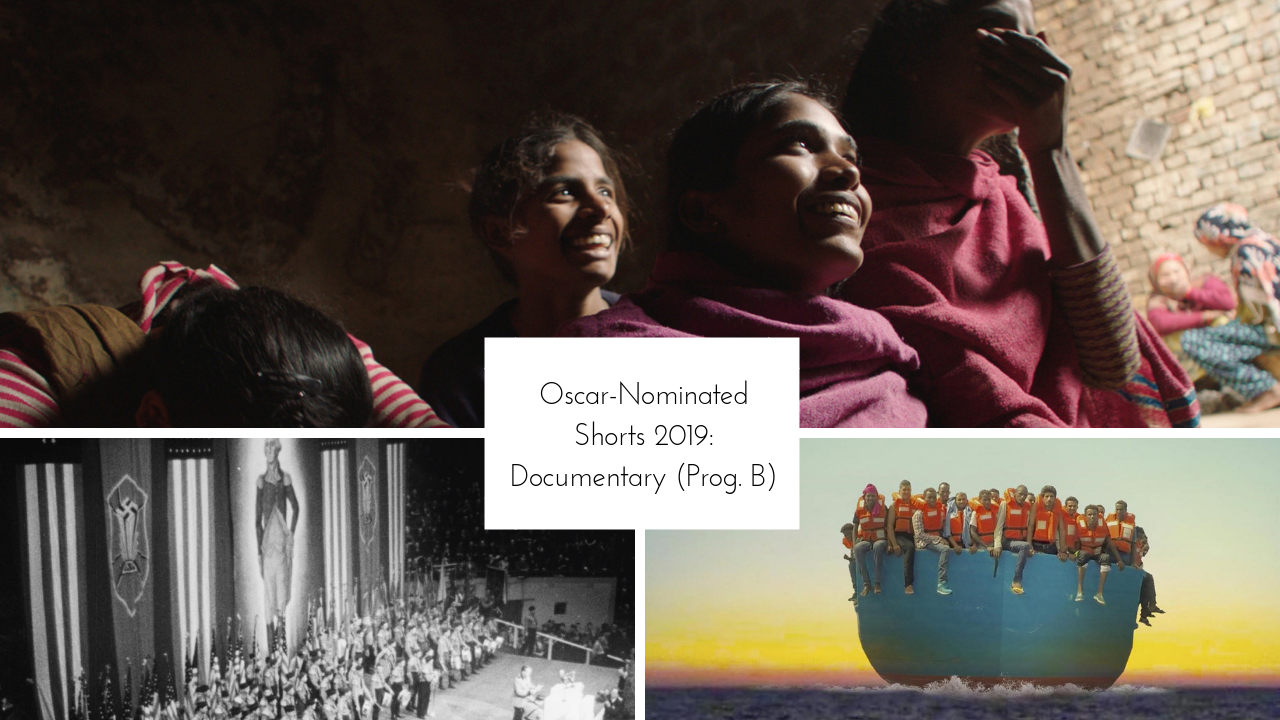 Oscar-Nominated Shorts 2019: Docs (Prog. B)
Friday, February 8 - Thursday, February 28, 2019
Program plays through the month of February; additional showtimes to be announced.
DOCUMENTARY SHORTS, PROGRAM B – 74 minutes
A Night at the Garden (dir. Marshall Curry, USA, 7 min.)
Lifeboat (dir. Skye Fitzgerald, USA, 40 min.)
PERIOD. END OF SENTENCE. (dirs. Rayka Zehtabchi, India, 26 min.)
Film Synopses:
A Night at the Garden
In 1939, 20,000 Americans rallied in New York's Madison Square Garden to celebrate the rise of Nazism – an event largely forgotten from American history. "A NIGHT AT THE GARDEN", made entirely from archival footage filmed that night, transports audiences to this chilling gathering and shines a light on the power of demagoguery and anti-Semitism in the United States.

Lifeboat
Volunteers from a German non-profit risk the waves of the Mediterranean to pluck refugees from sinking rafts pushing off from Libya in the middle of the night. "LIFEBOAT" puts a human face on one of the world's greatest contemporary, global crises and provides a spark of hope surrounding how civil society can intervene in the refugee crisis in a meaningful way.

Period. End of Sentence.
In a rural village outside Delhi, India, women lead a quiet revolution. They fight against the deeply rooted stigma of menstruation. "PERIOD. END OF SENTENCE." — a documentary short directed by Rayka Zehtabchi — tells their story. For generations, these women didn't have access to pads, which lead to health problems and girls missing school or dropping out entirely. But when a sanitary pad machine is installed in the village, the women learn to manufacture and market their own pads, empowering the women of their community. They name their brand "FLY," because they want women "to soar." Their flight is, in part, enabled by the work of high school girls half a world away, in California, who raised the initial money for the machine and began a non-profit called "The Pad Project."

Filmmaker Biographies:
MARSHALL CURRY is a two-time Academy Award nominated documentary filmmaker. His film "STREET FIGHT" follows Cory Booker's first run for mayor of Newark, NJ and was nominated for an Oscar and an Emmy. His follow-up documentary, "RACING DREAMS," tells the story of two boys and a girl who live in rural America and dream of one day racing in NASCAR. It won numerous awards, including Best Documentary Feature at the Tribeca Film Festival, and aired on PBS and the BBC. His third film, "IF A TREE FALLS: A STORY OF THE EARTH LIBERATION FRONT," peels back the layers of a radical environmental group that the FBI called the number one domestic terrorist group in the United States. That film won the award for Best Documentary Editing at the Sundance Film Festival and went on to be nominated for an Oscar. Marshall was Executive Producer and an additional editor of "MISTAKEN FOR STRANGERS," a comedy rock-doc about indie band The National. In 2014, Marshall directed and edited "POINT AND SHOOT," a documentary about a young Baltimore native who set out on a 30,000-mile motorcycle trip through Northern Africa and the Middle East and wound up joining the rebels in Libya fighting Gaddafi. It won the Grand Jury Prize for Best Documentary at the Tribeca Film Festival and was released in theaters and aired on PBS and the BBC. Marshall is a graduate of Swarthmore College where he studied Comparative Religion and has been a guest lecturer at Harvard, Duke, Columbia, NYU, and other colleges. (A Night at the Garden)
SKYE FITZGERALD was recently inducted as an honorary member into SAMS (Syrian American Medical Society) for his work with Syrian refugees and named a Distinguished Alumnus at his alma mater, Eastern Oregon University for documentary work. Designated a Fulbright Research Scholar to produce the film "BOMBHUNTERS" (2006) Fitzgerald has since collaborated or received support from the Sundance Institute, the U.S. Institute of Peace, the State Department, the Paul Robeson Fund and Mountainfilm. As a Director of Photography, Fitzgerald has lensed work for major broadcast and cable strands including Dateline NBC, VICE , Mercy Corps, CNN, the Discovery, Travel and History Channels, and most recently an entire season of the new Animal Planet show "AMANDA TO THE RESCUE." In addition to directing "101 SECONDS" (a film about the American gun debate – Amazon Prime, iTunes, Comcast Streampix) Fitzgerald directed the recently completed "LIFEBOAT", a film documenting Search and Rescue operations off the coast of Libya. His last film, "50 FEET FROM SYRIA," focused on doctors working on the Syrian border. The film was voted onto the shortlist for an Oscar. (Lifeboat)
RAYKA ZEHTABCHI is an Iranian-American film director based in Los Angeles. Her directorial debut, "MADARAN", is an Iranian language short film that has screened worldwide at established film festivals, winning jury awards at Hollyshorts, Urbanworld, and Cleveland International. Madaran qualified for the 89th Academy Awards in 2016. Rayka's documentary, "PERIOD. END OF SENTENCE.", is about a group of village women in Northern India who start a sanitary pad business in an effort to improve feminine hygiene and de-stigmatize menstruation. Along with the film's release, the "PERIOD. END OF SENTENCE." team co-founded the non-profit "The Pad Project" to fight the stigma of menstruation and improve feminine hygiene worldwide. "PERIOD. END OF SENTENCE." double-qualified for the academy awards in 2018, winning Jury and audience awards at Michael Moore's Traverse City Film Festival and Cleveland International. The film also took home Jury and audience awards from AFI FEST among many others and is now nominated in the Documentary Short category of the 91st Academy Awards®. Rayka recently directed a branded short for Netflix's digital exclusive series "WHAT I WISH YOU KNEW," which centered on the non-binary gender identity. She's currently developing a feature documentary as well as a narrative feature. Rayka's passion is telling human stories that bring awareness and action to little-known social causes. She brings a naturalistic approach to her storytelling, striving for honesty and intimacy on screen. (Period. End of Sentence.)