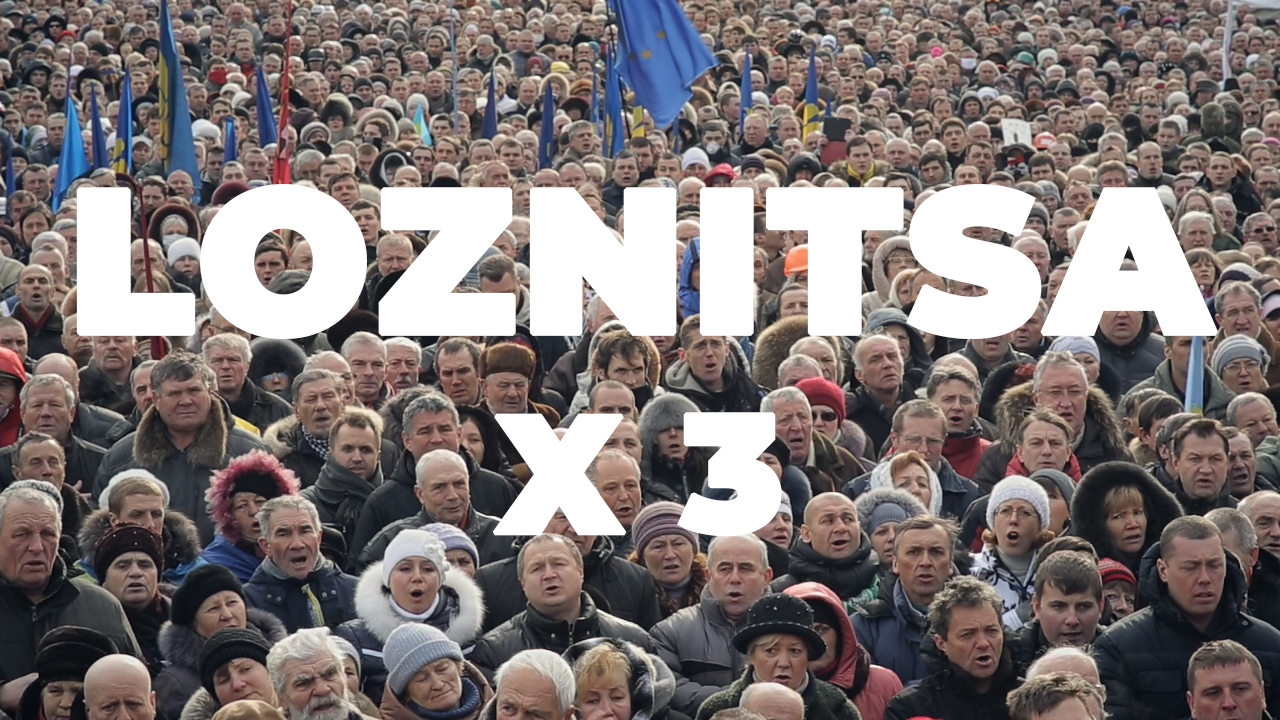 Loznitsa x 3
Friday, April 8 - Thursday, April 14, 2022
A Portion of Ticket Sales Benefit the Red Cross's Ukraine Humanitarian Crisis Fund
"Loznitsa has perfected a rigorously observational style that bears unblinking witness to events, often with a combination of skepticism, irony and moral outrage." – Ann Hornaday, Washington Post
Acclaimed Ukrainian filmmaker Sergei Loznitsa's most recent fiction feature DONBASS, an antiwar satire that won the Best Director award at Cannes' Un Certain Regard, will have its long-awaited US theatrical premiere, at IFC Center on April 8. Accompanying DONBASS are two of the filmmaker's earlier Cannes alumni: A GENTLE CREATURE (2017), the tale of a woman in search of her incarcerated husband in rural Russia, which has never been released in the US; and MAIDAN (2014), a powerful documentary of the civil protests that toppled the government of corrupt president Victor Yanukovich and led to a new phase of democracy for Ukraine.
Ukraine's official submission to the 91st Academy Awards, DONBASS takes place in the eponymous region of Eastern Ukraine, where a hybrid war involves an open armed conflict alongside killings and robberies on a mass scale perpetrated by separatist gangs. In a world lost in post-truth and fake identities, war is called peace, propaganda is uttered as truth and hatred is declared to be love.
Inspired by Dostoyevsky's short story, A GENTLE CREATURE (2017) is set in a land of crime without punishment. One day, a woman receives a parcel she sent to her incarcerated husband marked "return to sender." Shocked and confused, the woman has no choice but to travel to the prison in a remote region of the country in search of an explanation. "A captivating, hallucinatory plunge into Russia's atrophied civil society." – Jay Weissberg, Variety
MAIDAN (2014) chronicles the civil uprising that toppled the Ukrainian government and set the country on a democratic path that would have international repercussions. Filmed in stunning long takes, sans commentary, MAIDAN is a record of a momentous historical event and an extraordinary study of the popular uprising as a social, cultural and philosophical phenomenon. "Easily the most rigorous, vital, and powerful movie of 2014." – Michael Atkinson, Village Voice
Born in 1964, SergeI Loznitsa grew up in Kyiv, Ukraine. In 1987, he graduated from Kyiv Polytechnic with a degree in applied mathematics, working as a researcher in artificial intelligence before going on to study filmmaking in Moscow. He has directed dozens of documentaries, winning prizes at festivals around the world, and four features, all of which have been selected for the Cannes Film Festival: My Joy (2010), In the Fog (2012), A GENTLE CREATURE and DONBASS.
Special thanks to Film Movement, Wild Bunch International and Cinema Guild for making this program possible.
Series Films
Past Films