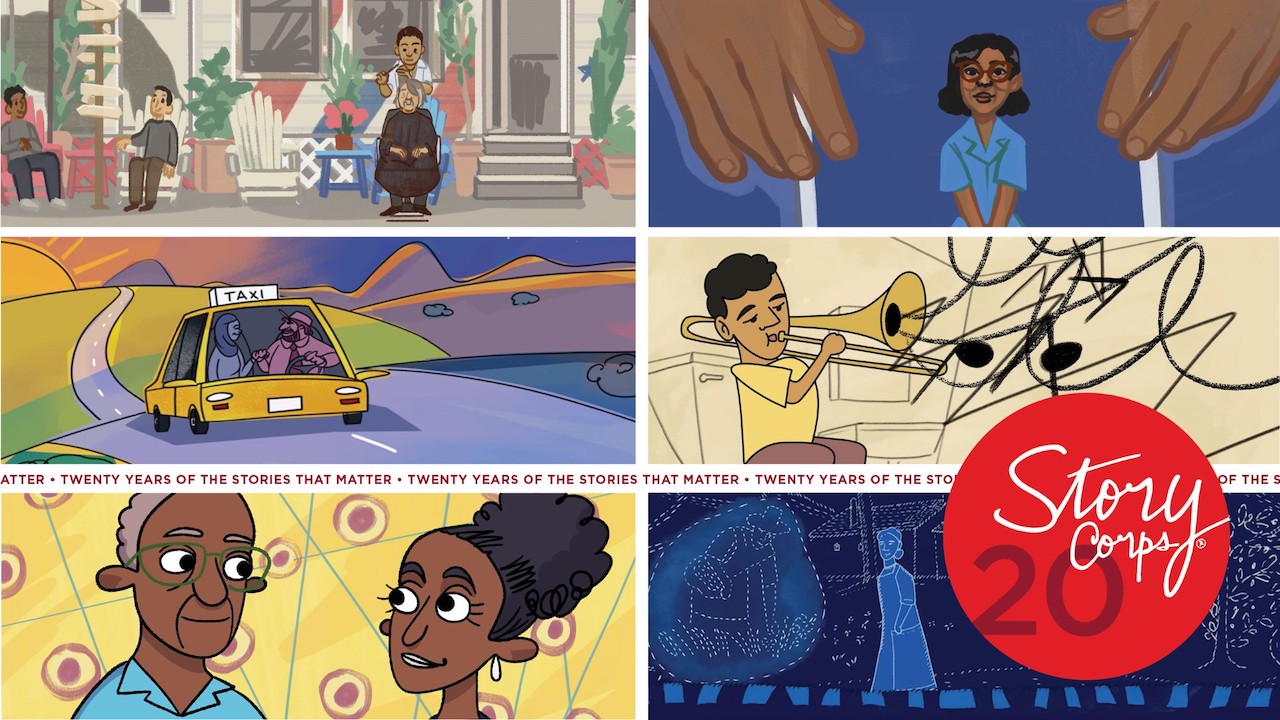 Short Attention Span Cinema: Celebrating 20 Years of StoryCorps
Friday, September 8 - Thursday, December 7, 2023
As part of our ongoing Short Attention Span Cinema program, IFC Center is proud to share a collection of animations from StoryCorps.
We are celebrating 20 years of StoryCorps! Explore a collection of animations, including five new releases, that reflect the breadth of meaningful conversations that everyday people have shared in StoryCorps booths over the last 20 years, as they pass on wisdom they've gained along their paths.
StoryCorps is committed to the idea that everyone has an important story to tell and that everyone's story matters. StoryCorps's work helps us believe in each other by illuminating the humanity and possibility in us all — one story at a time. Visit storycorps.org to learn more or record your own story, and watch more StoryCorps videos at youtube.com/storycorps.
9/8 – 9/14: September 12th | A man reflects on feeling responsible for the September 11 attacks. (2021)
9/15 – 9/21: Facundo the Great | A name that could not be changed. (2012)
9/22 – 9/28: The Icing on the Cake | How watching her mother inspired her to pursue her goals. (2010)
9/29 – 10/5: Clean Streets | Unexpected lessons from cleaning the streets. (2015)
10/6 – 10/12: Making it | Making ends meet, and making it to college. (2013)
10/13 – 10/19: Family Harmony | A musical journey that resolved in harmony.  (new release)
10/20 – 10/26: Rules of the Road | A driving lesson gone wrong.(new release)
10/27 – 11/2: Grandma's Hands | Her grandmother's hands shaped her. (new release)
11/3 – 11/9: Mama Sug | Laughter, love, and a little bit of chaos. (new release)
11/10 – 11/16: Dreamer's Gift | Never underestimate the power of a haircut. (new release)
11/17 – 11/23: Q&A | Asking his mother the difficult questions. (2010)
11/24 – 11/30: Danny and Annie | There will never be anyone like Annie. (2010)
12/1 – 12/7: No More Questions | Last conversations with an unforgettable matriarch. (2011)
Series Films