Short Attention Span Cinema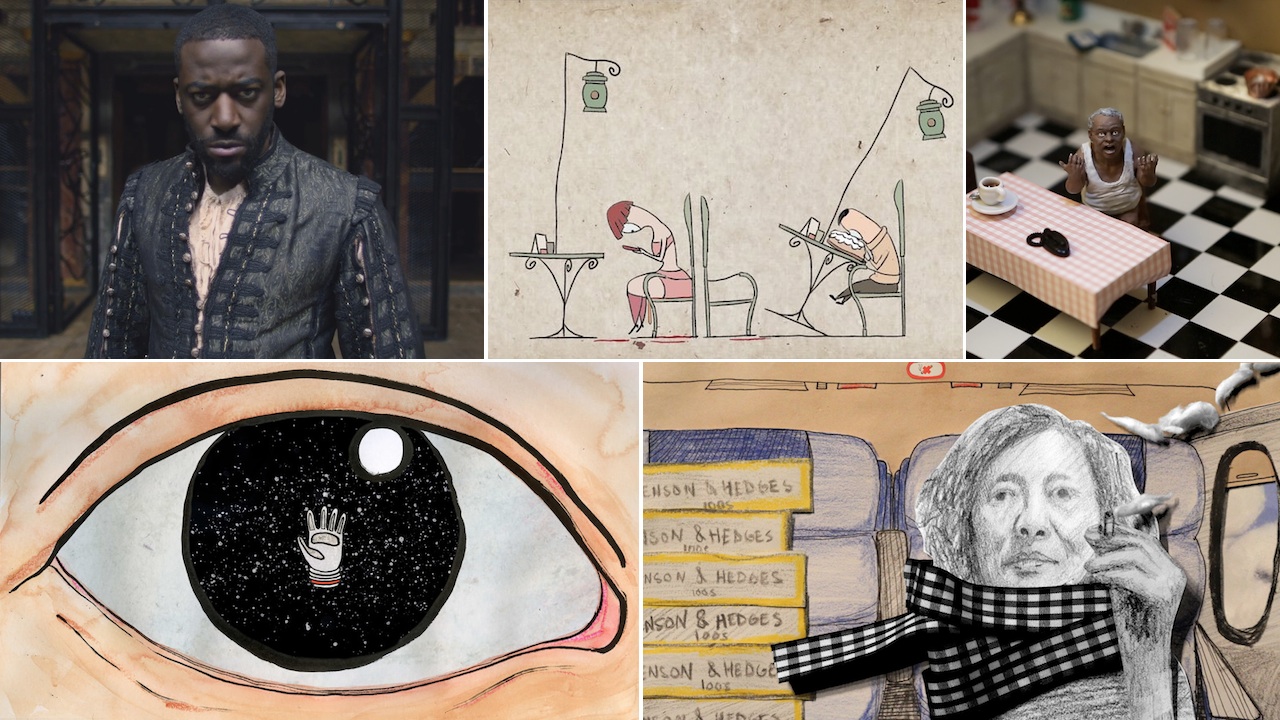 Shorts from the Sundance Film Festival
Friday, December 16, 2016 - Thursday, January 19, 2017
IFC Center presents "Shorts from the Sundance Film Festival," a showcase of five short films from the 2016 and 2017 Sundance Film Festivals, screening December 16 through January 19 in the theater's "Short Attention Span Cinema" program. Presented in celebration of the upcoming Festival, which runs January 19-29 in Park City, Utah, the program presents a different short each week before IFC Center's regular features; a complete schedule is below.
The series spotlights four animated and one live-action film from the USA, China and the UK, opening with two animated 2016 Festival alumni: LIFE SMARTPHONE, a sly look at an all-consuming obsession; and GLOVE, the true story of a glove that's been floating in space since 1965. The lineup continues with two animated films screening in the 2017 Festival: LEGAL SMUGGLING WITH CHRISTINE CHOY, a humorous interview with a veteran filmmaker who devised an ingenious way to import duty-free cigarettes; and VICTOR AND ISOLINA, a he-said/she-said tale of an elderly couple who've decided to live apart. The program wraps with the live-action DEAR MR. SHAKESPEARE, an interrogation of Othello and its origins from the vantage point of contemporary, multicultural Britain.
The Sundance Film Festival has introduced global audiences to some of the most groundbreaking films of the past three decades, including Boyhood, Beasts of the Southern Wild, Fruitvale Station, Whiplash, Brooklyn, Twenty Feet from Stardom, Life Itself, The Cove, The End of the Tour, Blackfish, Me and Earl and the Dying Girl, Super Size Me, Dope, Little Miss Sunshine, sex, lies, and videotape, Reservoir Dogs, Hedwig and the Angry Inch, An Inconvenient Truth, Precious and Napoleon Dynamite. The Festival is a program of the non-profit Sundance Institute®. 2017 Festival sponsors to date include: Presenting Sponsors – Acura, SundanceTV, Chase Sapphire®, and Canada Goose; Leadership Sponsors – Adobe, AT&T, DIRECTV, and YouTube; Sustaining Sponsors – American Airlines, Canon U.S.A., Inc., Francis Ford Coppola Winery, GEICO, Google VR, The Hollywood Reporter, IMDb, Jaunt, Kickstarter, Omnicom, Stella Artois® and the University of Utah Health. Sundance Institute recognizes critical support from the Utah Governor's Office of Economic Development, and the State of Utah as Festival Host State. The support of these organizations helps offset the Festival's costs and sustain the Institute's year-round programs for independent artists. Look for the Official Sponsor seal at their venues at the Festival.
Inaugurated with IFC Center's opening in 2005, the ongoing "Short Attention Span Cinema" series plays short films before the theater's regular features, every day of the year. In addition to several collaborations with The New York Times's Op-Docs, past editions have spotlighted films from festivals like Slamdance and Doxita; work from Focus Forward, The 78 Project, the Storycorps oral history project and UNICEF's OneMinutesJr. initiative; and films by Isabella Rossellini, James Nares, Jay Rosenblatt, DA Pennebaker, Jeff Scher, Emily Hubley, Guy Maddin, Jessica Oreck and others.
Short Attention Span Cinema: SHORTS FROM THE SUNDANCE FILM FESTIVAL Dec 16-Jan 19
Dec. 16-22:             LIFE SMARTPHONE (Chenglin Xie, China)
Dec. 23-29:            LEGAL SMUGGLING WITH CHRISTINE CHOY (Lewie Kloster, USA)
Dec. 30-Jan. 5:      GLOVE (Alexa Lim Haas & Bernardo Britto, USA)
Jan. 6-12:               VICTOR AND ISOLINA (William Caballero, USA)
Jan. 13-19:              DEAR MR. SHAKESPEARE (Shola Amoo, UK)