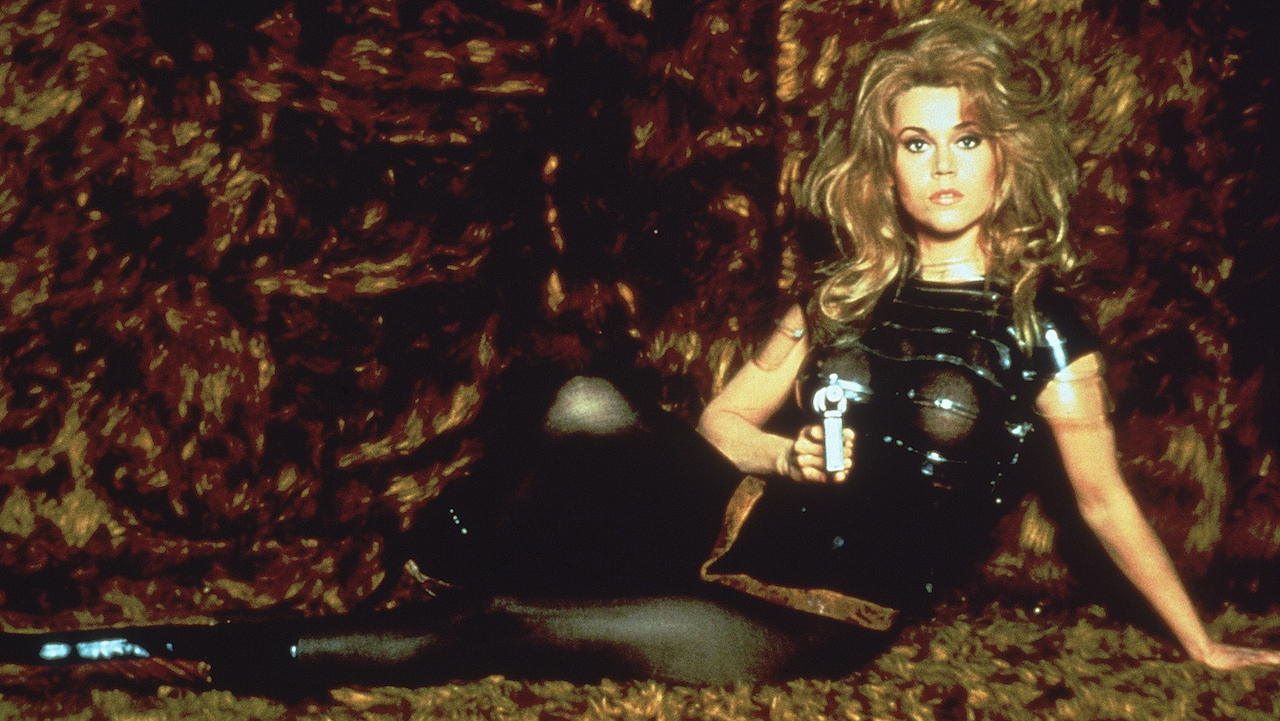 Barbarella
Friday, October 13 - Saturday, October 14, 2017
DCP Projection
"Playing the title role of 'a five-star double-rated astronautical aviatrix,' Jane Fonda maneuvers an insane plot, wears Nancy Sinatra go-go boots and shiny metallics and comes across looser, lovelier and funnier than she's ever been since. BARBARELLA is a pure goof — Vadim called it 'a kind of sexual Alice in Wonderland of the future' — and Fonda seems to have reveled in every sexy, campy moment.
Hell, what's not to like about set designs that look like someone's acid-induced science project, or a series of breast-enhancing Space Queen outfits that make the then-29-year-old Fonda resemble a dishy mutation of Judy Jetson, Buster Crabbe and Charo?…
Vadim opens the film in Barbarella's garish, fur-lined spaceship as she receives televised orders from the president of Earth (Claude Dauphin) to find Durand Durand, an earthling scientist bent on intergalactic destruction. Off she goes to planet Lytheon, encountering a team of vampire dolls, making love to a fur-covered huntsman (Ugo Tognazzi) and taking refuge in the wings of a hunky blind angel (John Phillip Law).
The plot is blissfully dispensable. Barbarella crash-lands her spacecraft and emerges unscathed in a new outfit and freshly combed Edy Williams hair. Barbarella encounters the evil Black Queen (Anita Pallenberg) and wields her mini-missile projector. Barbarella learns to make love the 'old-fashioned way' (and likes it!) — instead of using the exaltation-transference pellets she's accustomed to.
Fonda looks sensational and glides through this romp like a dazed, ripe-to-the- touch innocent. She's a delight and she partners nicely with her European co-stars: David Hemmings as the revolutionary Dildano, Marcel Marceau as the orchid-munching Professor Ping and Irish actor Milo O'Shea, a Jon Lovitz look-alike, as the crazed Durand Durand." – San Francisco Chronicle
Part of the Waverly Midnights series "The Future Is Female"
Year 1968
Running Time 98 minutes
Director Roger Vadim