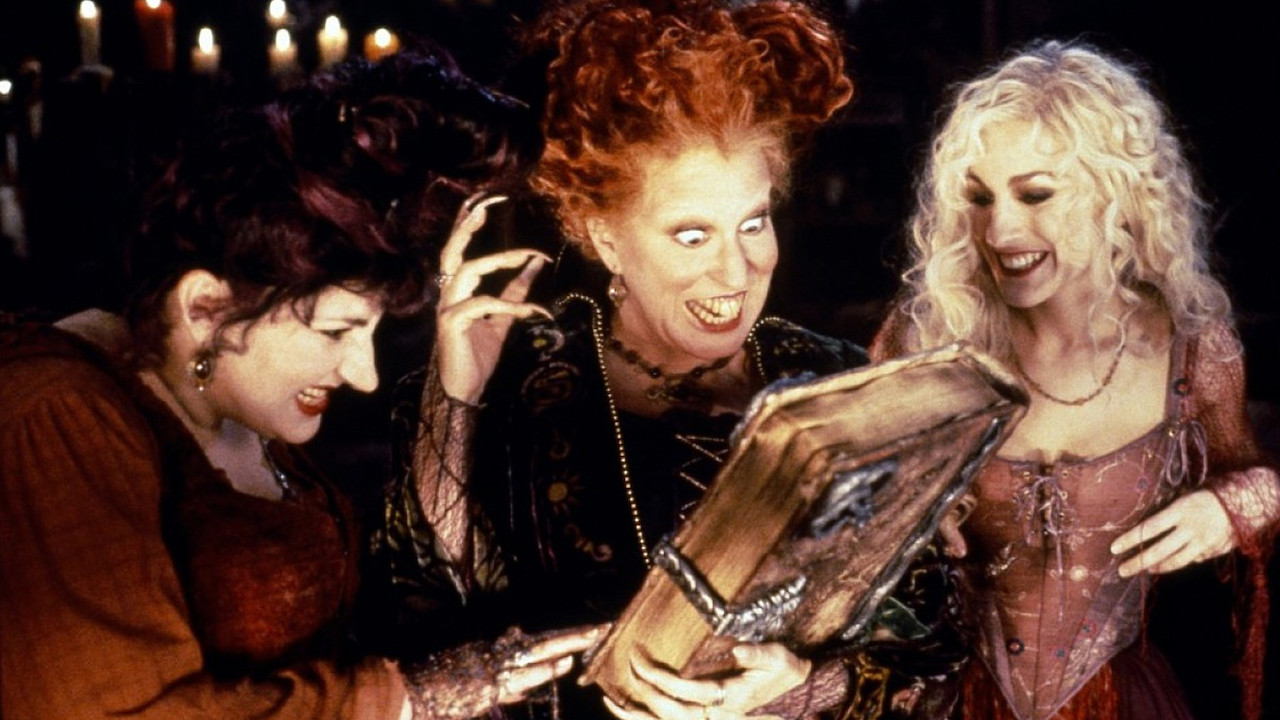 Hocus Pocus
Friday, October 20 - Tuesday, November 7, 2017
Special revival, just in time for Halloween!
"My favorite Halloween tradition comes in the form of a kid's movie starring Bette Midler in a set of fake buck teeth: Walt Disney's 1993 cult classic, Hocus Pocus…
The film opens in 1693 at the Salem, Mass., home of the Sanderson sisters, three witches who maintain their immortality by poisoning children and sucking out their souls — kind of like dementors in bad perms and heels. Midler is the leader of the trio, Winifred, who's joined by a slapstick Kathy Najimy and Sarah Jessica Parker, who plays — wait for it — Sarah, a slightly ditzier version of Sarah Jessica Parker.
In the middle of one ritual soul-sucking, the witches are interrupted by a local boy named Thackery (No, that's not a typo, and until I actually sat through the credits in 2009, I thought all the actors had lisps that only surfaced for the word "Zachary."). The sisters are hanged in the tradition of so many misunderstood Salem women in those days, but not before they cast a spell to ensure their eventual return.
Flash forward 300 years to Halloween 1993, and a brooding teen named Max who's just moved to Salem from California. With his tie-dyed T-shirt and bedroom drum kit, Max is too cool for school, and far too jaded for all this stuff about the Sanderson sisters that everyone's warning him about. Max lights the Sandersons' legendary black flame candle in a misguided attempt to impress a crush, and the three witches bound back to life with just one night to claim a child's soul.
Like most children's films these days (Pixar's especially), Hocus Pocus serves up a heaping helping of adult humor that went way over my head back in the early 90s…. Besides the three sisters, the biggest and best star in Hocus Pocus is a young Thora Birch, who's an absolute riot as Max's kid sister, Dani. She is an unrelenting 8-year-old thorn in her brother's side, teasing him for his lack of sexual prowess, because — oh, yeah — only a vir-gin could have lit the candle that brought the Sanderson sisters back to life. And she says it like that, too: vir-gin, like she can't believe what a mouth-breathing loser she has for a brother. But she isn't much help — Dani spills to Max's crush, Allison, that he loves her "yabbos." Why "yabbos" never caught on as hip 90s slang, I'll never understand….
Whispers of a sequel in the works have been wafting through the halls of Hollywood, and if it comes to fruition, I'll be first in line at the theatre, probably hiding a thermos full of spiked cider in my backpack. It hasn't been quite 300 years since the Sanderson sisters last haunted Salem, but I think it's about time for a vir-gin to light that candle and bring those wonderful witches back to life." – Christina Cauterucci, NPR.org
Country USA
Year 1993
Running Time 96 minutes
Director Kenny Ortega