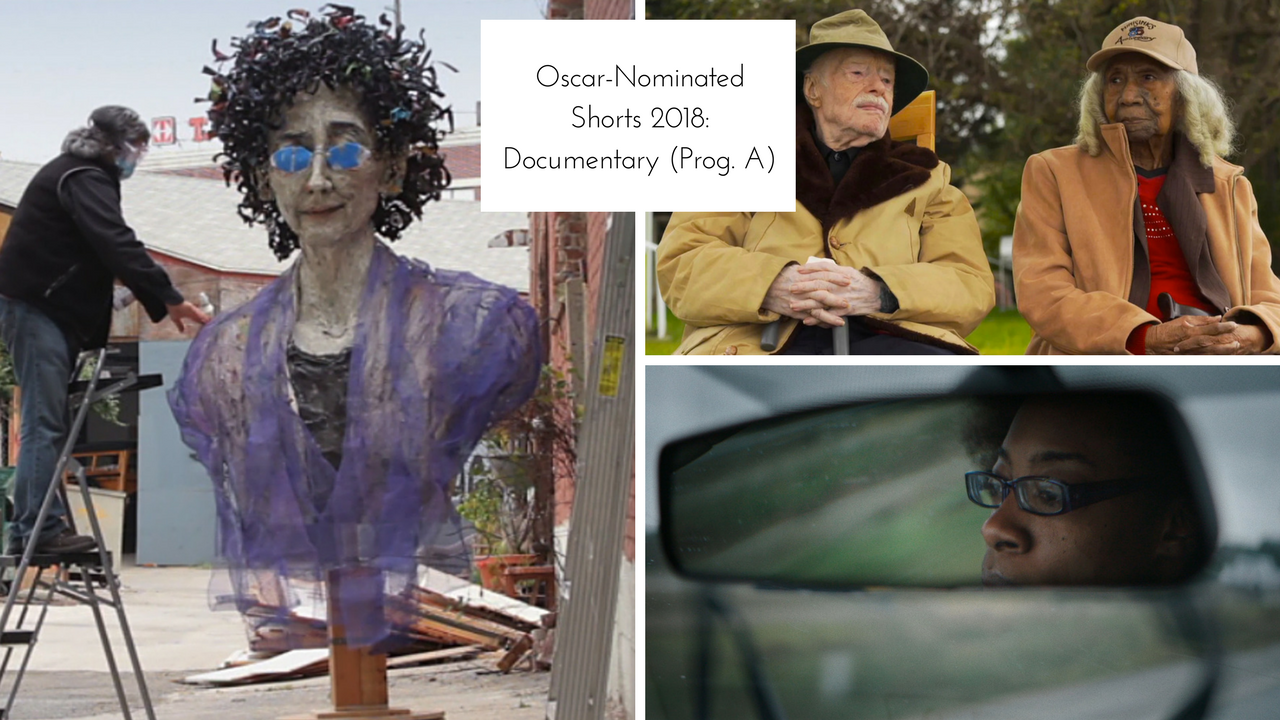 Oscar-Nominated Shorts 2018: Documentary (Prog. A)
Friday, February 9 - Thursday, March 15, 2018
DOCUMENTARY SHORTS
Program A. See the other 2 documentary nominees in Program B.

PROGRAM A (Estimated Running Time: 102 minutes)
Traffic Stop – Kate Davis, USA, 30 minutes
Heaven is a Traffic Jam on the 405 – Frank Stiefel, USA, 40 minutes
Edith + Eddie – Laura Checkoway and Thomas Lee Wrights, USA, 29 minutes
Traffic Stop (director: Kate Davis)
Synopsis: This HBO Documentary film tells the story of Breaion King, a 26-year-old African-American schoolteacher from Austin, TX who was stopped for a routine traffic violation that escalates into a harrowing arrest. As captured on several squad-car dashcams, King is seen pulled from her car by the arresting officer, who repeatedly throws her to the ground before handcuffing her. En route to jail in a squad car she engages in a revealing conversation with another officer about race and law enforcement in America. The documentary juxtaposes raw footage of the incident with scenes from King's everyday routines, offering a vivid portrait of a woman whose life is turned upside down by a traumatic arrest.
Director's Biography: KATE DAVIS studied filmmaking at Harvard and has made acclaimed documentaries for twenty years. An AMPAS member, her film SOUTHERN COMFORT won dozens of awards including The Grand Jury Prize at Sundance, The Berlin Film Fest Special Jury Award and First Prize at Hot Docs and Seattle Film Festival. With her partner David Heilbroner, Davis co-directed THE CHESHIRE MURDERS (HBO), THE NEWBURGH STING (HBO, Peabody Award), directed JOCKEY (HBO, Emmy Award, Best Direction), and also produced/co-directed STONEWALL UPRISING (Peabody Award), and SCOPES: THE BATTLE OVER AMERICA'S SOUL. She is currently completing a musical film titled BORN INTO THE GIG, and just completed an HBO documentary film on the world-renown case of a young black woman found hung in a Texas prison three days after a traffic violation, titled SAY HER NAME: THE LIFE AND DEATH OF SANDRA BLAND.
Heaven is a Traffic Jam on the 405 (director: Frank Stiefel)
Synopsis: This is a portrait of a brilliant 56 year old artist who is represented by one of Los Angeles' top galleries. Her body of raw, emotional work reveals a lifetime of depression and mental disorder. Mindy Alper has suffered through electro shock therapy, multiple commitments to mental institutions and a 10-year period without speech. Her only consistent means of communicating has been to channel her hyper self-awareness into drawings and sculpture of powerful psychological clarity that eloquently express her emotional state. Through an examination of her work, interviews, reenactments, the building of an eight and a half foot papier-mache' bust of her beloved psychiatrist, we learn how she has emerged from a life of darkness and isolation to a life that includes love, trust and support.
Director's Biography: Frank Stiefel the producer, director, writer and cinematographer of HEAVEN IS A TRAFFIC JAM ON THE 405 was born and raised in New York City. He spent most of his career as a production executive in the commercial production industry. First as the executive producer of the bicoastal company, Stiefel & Company and later as an executive producer of the international company, @Radical Media, Mr. Stiefel was responsible for the production of thousands of TV commercials, web initiatives and television programs. He was the only person chosen twice to be the chairman of the trade association the Association of Independent Commercial Producers. Stiefel produced a number of short subject documentaries that appeared at Telluride, Sundance, and Berlin. In 2009 he directed INGELORE, a 40-minute documentary portrait of his mother. The film was honored at many international festivals winning a number of Audience and Best short subject documentary awards. It was seen at IDA DOCUWEEKS presentation, MUSEUM OF MODERN ART DOCUMENTARY FORTNIGHT, and BERLINALE. In 2011 Stiefel retired as an executive producer to concentrate on the making of documentaries.
Edith + Eddie (director: Laura Checkoway)
Synopsis: Edith and Eddie, ages 96 and 95, are America's oldest interracial newlyweds. Their love story is disrupted by a family feud that threatens to tear the couple apart.
Director's Biography: Director's Biography: Laura Checkoway's documentary short EDITH+EDDIE has won numerous awards including the IDA Documentary Awards Best Short 2017. The film is executive produced by Steve James and Cher. Her award-winning debut film LUCKY (also executive produced by Steve James) screened at festivals across the globe and premiered on television in 2014. With a background in journalism, Laura penned revealing profiles and investigative features for numerous publications and has authored best-selling celebrity autobiographies.
Screening as part of our Academy Award-Nominated Shorts 2018 series, showcasing the nominated films in animation, live-action, and documentary.