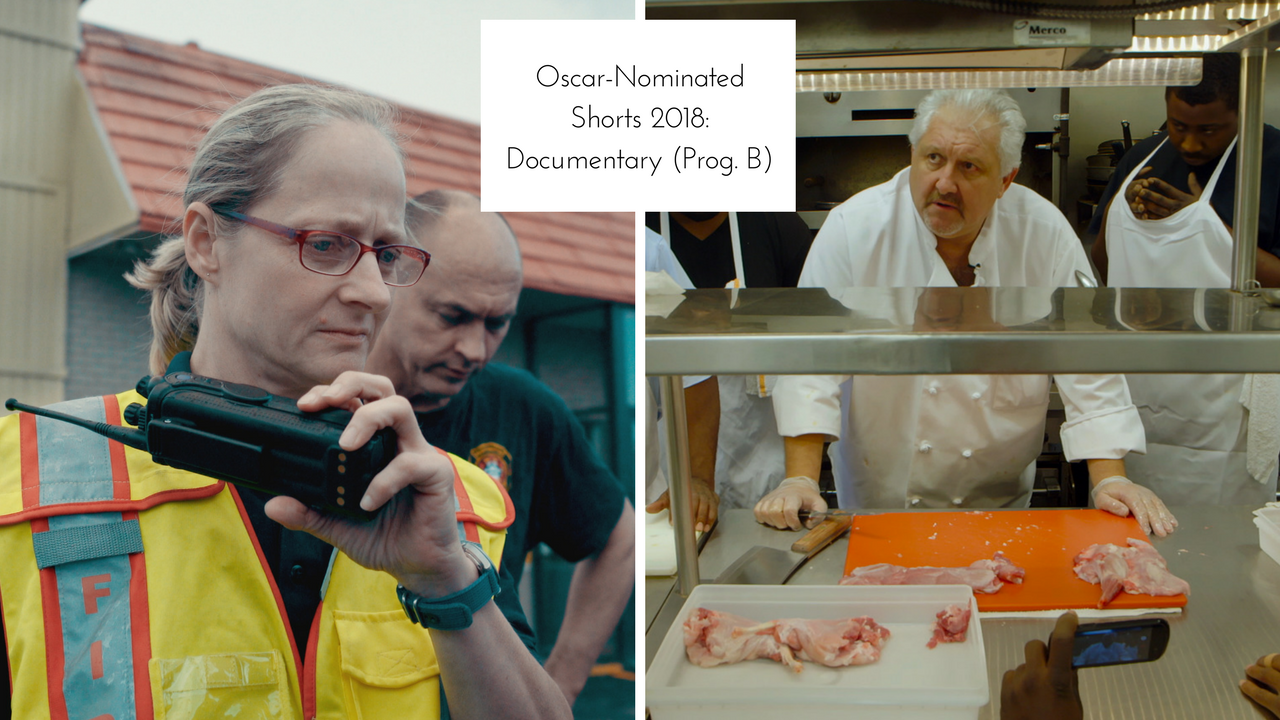 Oscar-Nominated Shorts 2018: Documentary (Prog. B)
Friday, February 9 - Thursday, March 15, 2018
DOCUMENTARY SHORTS
Program B. See the other 3 documentary nominees in Program A.

PROGRAM B (Estimated Running Time: 82 minutes)
Heroin(e) – Elaine McMillion Sheldon and Kerrin Sheldon, USA, 39 minutes
Knife Skills – Thomas Lennon, USA, 40 minutes
Heroin(e) (director: Elaine McMillion Sheldon)
Synopsis: Once a bustling industrial town, Huntington, West Virginia has become the epicenter of America's modern opioid epidemic, with an overdose rate 10 times the national average. This flood of heroin now threatens this Appalachian city with a cycle of generational addiction, lawlessness, and poverty. But within this distressed landscape, Peabody Award-winning filmmaker Elaine McMillion Sheldon (Hollow) shows a different side of the fight against drugs — one of hope. Sheldon highlights three women working to change the town's narrative and break the devastating cycle of drug abuse one person at a time. Fire Chief Jan Rader spends the majority of her days reviving those who have overdosed; Judge Patricia Keller presides over drug court, handing down empathy along with orders; and Necia Freeman of Brown Bag Ministry feeds meals to the women selling their bodies for drugs. As America's opioid crisis threatens to tear communities apart, the Netflix original short documentary HEROIN(E) shows how the chain of compassion holds one town together.
Director's Biography: Elaine McMillion Sheldon is a Peabody Award winning and Emmy nominated filmmaker from West Virginia. HEROIN(E) was produced in association with the Berkeley-based Center for Investigative Reporting (CIR), as part of a new initiative to support women filmmakers. In 2016, Chicken & Egg Pictures awarded her with the inaugural "Breakthrough Filmmaker" award. Sheldon was a 2013 Future of Storytelling Fellow, and named one of the "25 New Faces of Independent Film" in 2013 by Filmmaker Magazine and one of "50 People Changing The South" in 2015 by Southern Living Magazine. She has also contributed several shorts to The New York Times Op-Docs.
Knife Skills (director: Thomas Lennon)
Synopsis: What does it take to build a world-class French restaurant? What if the staff is almost entirely men and women just out of prison? What if most have never cooked or served before, and have barely two months to learn their trade? KNIFE SKILLS follows the hectic launch of Edwins restaurant in Cleveland, Ohio. In this improbable setting, with its mouthwatering dishes and its arcane French vocabulary, we discover the challenges of men and women finding their way after their release. We come to know three trainees intimately, as well as the restaurant's founder, who is also dogged by his past. They all have something to prove, and all struggle to launch new lives — an endeavor as pressured and perilous as the ambitious restaurant launch of which they are a part.
Director's Biography: Veteran filmmaker and journalist Thomas Lennon's work in documentary film has earned him an Academy Award®, three Academy® nominations, two national Emmys, two duPont-Columbia awards, two George Foster Peabody awards, and two films that premiered at the prestigious Sundance Film Festival. Lennon recently completed SACRED, which draws on the contributions of more than 40 filmmakers around the world to explore the role of prayer and ritual in daily life. He founded, with Ruby Yang, the China AIDS Media Project; their AIDS awareness messages were seen over a billion times on Chinese television and the Internet, making it probably the most far-reaching AIDS media campaign ever created.
Screening as part of our Academy Award-Nominated Shorts 2018 series, showcasing the nominated films in animation, live-action, and documentary.