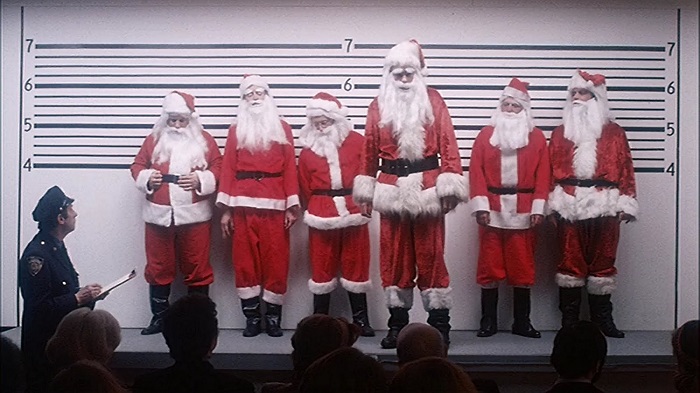 Rated Xmas
Friday, December 8 - Saturday, December 30, 2017
Opening weekend screenings introduced by critic & guest programmer Simon Abrams: TRADING PLACES  Fri Dec 8 at 12:10am, JACK FROST Sat Dec 9 at 12:20am!
IFC Center's "Rated Xmas" series returns this December, putting a different spin on the holidays with a 6-film series showcasing movies not typically considered Christmas tales. While the theater's annual Yuletime run of Frank Capra's IT'S A WONDERFUL LIFE screens matinees and evenings December 8-25, moviegoers can explore another side of the season with these half-dozen underappreciated films in late-night weekend screenings December 8-30. All films screen on DCP or 35mm; a complete schedule is below.
The program opens Friday, December 8 with two midnight offerings: Michael Cooney's killer snowman horror comedy JACK FROST (1997) and John Landis's holiday-set TRADING PLACES (1983), a status-swapping comedy starring Eddie Murphy and Dan Aykroyd. The series continues with the Coen Brothers' THE HUDSUCKER PROXY—named "the best Christmas movie of our generation" in Madison, Wisconsin's Badger Herald—screening December 15 & 16. Holiday horror gem CHRISTMAS EVIL (1980), hailed by no less than John Waters as "'the best seasonal film of all time," plays December 22-24. Ringing out 2017 with late-night shows December 29-30 are Jean-Pierre Jeunet and Marc Caro's creepy fantasy THE CITY OF LOST CHILDREN (1995), with perhaps the most unsettling Santas in cinematic history, and Satoshi Kon's anime masterwork TOKYO GODFATHERS (2003), a tale of a homeless trio who discover an abandoned baby on Christmas Eve.
Co-programmed by film critic Simon Abrams, this edition of "Rated Xmas" follows in the steps of IFC Center's 2015 "Rated Xmas: Holiday Classics, Naughty and Nice." The series takes place in addition to midnight movie screenings in IFC Center's ongoing "Waverly Midnights" and "Late-Night Favorites" programs. 
Series Films
Past Films