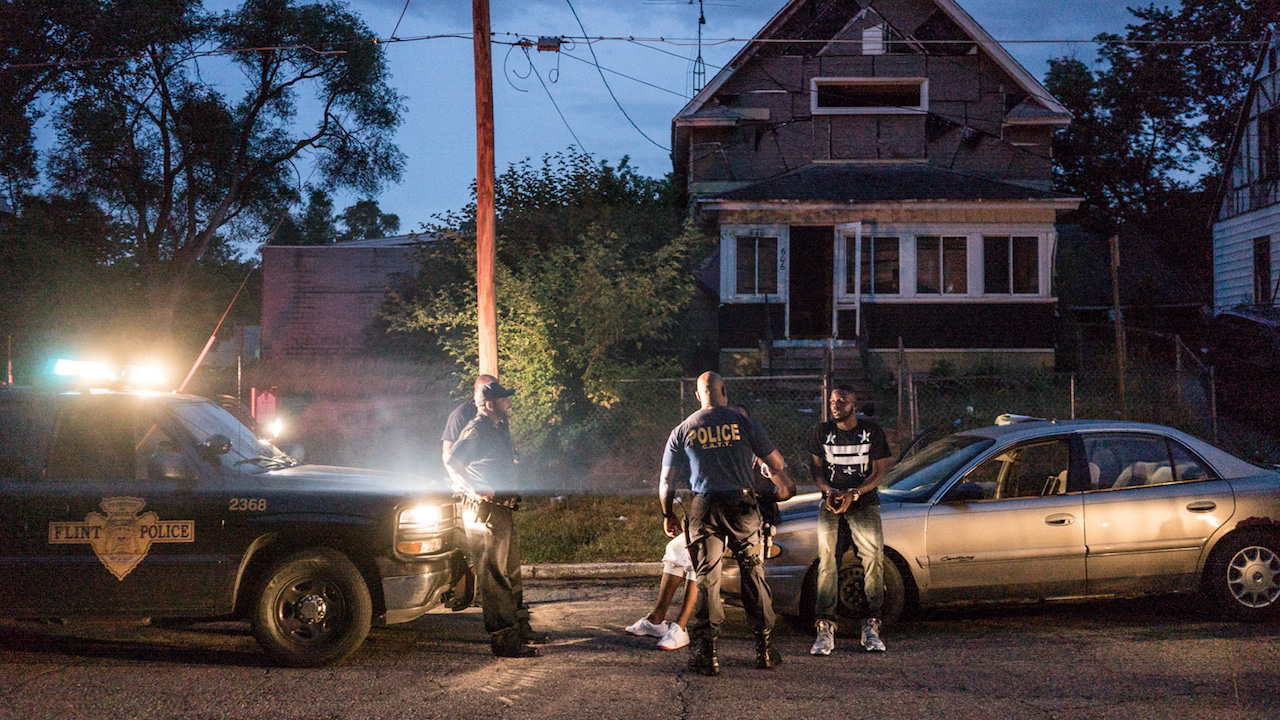 Stranger Than Fiction: Winter 2018
Tuesday, February 6 - Tuesday, March 27, 2018
Stranger Than Fiction, the weekly documentary film series now in its 14th year, hosted by Thom Powers and Raphaela Neihausen and presented by IFC Center, announces its 2018 winter season of nine films. The series opens with SEEING ALLRED (Feb 6), fresh from its Sundance premiere, about the controversial feminist attorney Gloria Allred. The closing night film is a preview of THE CHINA HUSTLE (Mar 27) investigating the perils of Wall Street deregulation, executive produced by Alex Gibney. STF showcases the growing prominence of episodic works, previewing two highly anticipated series FLINT TOWN (Feb 27) focusing on the police department in the Michigan city known for its water crisis; and WILD, WILD COUNTRY (Mar 13) about a religious cult accused of crimes, executive produced by Jay & Mark Duplass. "If you crave documentaries that generate passionate discussion, you'll get more than your money's worth from this line-up," said STF Artistic Director Thom Powers, who also hosts the podcast Pure Nonfiction.
Other new works being previewed include THIS IS CONGO (Feb 20) portraying the war in the Democratic Republic of Congo; and OH, RICK! (Mar 6), the Audience Award winner at DOC NYC, profiling the Comedy Cellar host Rick Crom. This year marks the 15th anniversary of America going to war in Iraq, documented in two retrospective screenings of CONTROL ROOM (Feb 13) and OCCUPATION: DREAMLAND (Mar 20). The season has one Thursday special INTO THE NIGHT: PORTRAITS OF LIFE AND DEATH (Mar 1) exploring how people face mortality.  The winter season is co-presented by New York Film Academy.
Each event includes a discussion with the filmmaker or special guests, followed by a gathering at a nearby bar. Full season schedule appears below. For more information, visit http://STFdocs.com.
Stranger Than Fiction: Winter 2018 Season | 7:00pm Tuesdays | February 6 – March 27
Each show features a Q&A with the director or other special guests
Feb 6 – Opening Night: SEEING ALLRED (2018, 96 min) at 7:30pm + Q&A with subject Gloria Allred
Feb 13: CONTROL ROOM (2004, 84 min) + Q&A with subject Josh Rushing and producer Rosadel Varela
Feb 20: THIS IS CONGO (2017, 91 min) + Q&A with director Daniel McCabe
Feb 27: FLINT TOWN (2018, two episodes totaling 90 min) + Q&A with directors Zackary Canepari, Jessica Dimmock, and Drea Cooper
March 1: Thursday Special: INTO THE NIGHT: PORTRAITS OF LIFE AND DEATH (2017, 125 min) + Q&A with director Helen Whitney
March 6: OH, RICK! (2017, 78 min) + Q&A with directors Dustin Sussman and Aaron Rosenbloom, and subject Rick Crom
March 13: WILD, WILD COUNTRY (2018, two episodes totaling 120 min) + Q&A with directors Chapman Way and Maclain Way, and executive producer Mark Duplass
March 20: OCCUPATION: DREAMLAND (2005, 78 min) + Q&A with director Ian Olds
March 27: Closing Night: THE CHINA HUSTLE (2018, 84 min) + Q&A with director Jed Rothstein
Tickets for Stranger Than Fiction screenings are $17 for the general public and $14 for IFC Center members. A Season Pass, good for admission to all 9 evenings is available for $99 ($80 for IFC members).
Series Films