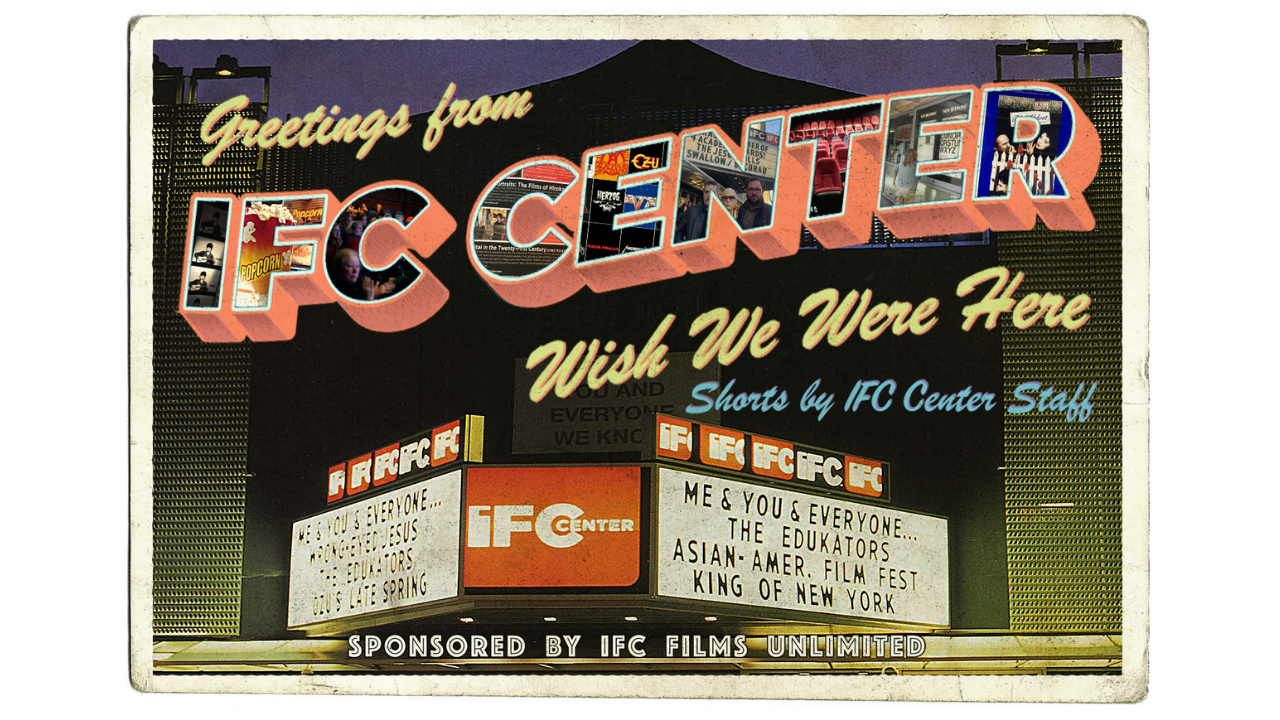 Wish We Were Here: Shorts by IFC Center Staff
With our theater closed as part of efforts to slow the spread of the Covid-19 coronavirus, IFC Center brings its signature short film programming online with "Wish We Were Here: Shorts by IFC Center Staff." Showcasing short documentary, comedy, drama, animated and experimental work by the creators who work as ushers, floor staff, box office cashiers, managers and projectionists, the program presents a different film on ifccenter.com every few days, watchable for free—see below for a list of current and previous films. The series is sponsored by subscription streaming service IFC Films Unlimited.
The theater is proud to partner on this new initiative with IFC Films Unlimited, a streaming service from our sister company IFC Films. Although our screens are dark during this temporary closure, IFC Films Unlimited lets audiences discover or revisit hundreds of our favorite films at home or anywhere they can stream, from the movie we opened our doors with, Miranda July's ME AND YOU AND EVERYONE WE KNOW, to IFC Center hits like BOYHOOD, 45 YEARS and THE BABADOOK, along with the work of international auteurs like Claire Denis, Olivier Assayas, Hirokazu Kore-Eda, and many more. Free trial subscriptions are available.
"Wish We Were Here" is an evolution of the ongoing "Short Attention Span Cinema" series that was inaugurated with IFC Center's opening in 2005. Since then, for almost 15 years until our temporary closure on March 13, 2020, SASC has presented great short films before the theater's regular features, day in and day out. In addition to collaborations with the Sundance Film Festival and the New York Times' Op-Docs, past editions have presented retrospectives of short work by Isabella Rossellini, James Nares, Jay Rosenblatt, DA Pennebaker, Jeff Scher, Emily Hubley, Guy Maddin, Jessica Oreck and many other filmmakers; have spotlighted films from festivals like Slamdance and Doxita and work from the Storycorps oral history project, Focus Forward, The 78 Project and UNICEF's OneMinutesJr. Initiative and other partners.
We're all looking forward to the day when we can play movies for audiences on our theater screens again, but in the meantime, we hope you enjoy these films from our dedicated team of movie lovers and movie makers.
Series Films
Past Films